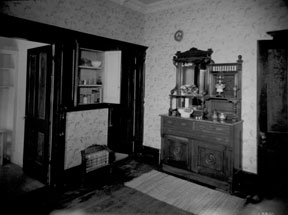 Dumbwaiter, Pantry, and Back Staircase
Historic photos help in understanding how earlier occupants utilized the home's spaces. Through historic newspaper accounts during Jones' occupancy and later oral histories, we know that the house utilized a "dumbwaiter" to hoist prepared food from the original kitchen downstairs to the dining room upstairs. Oral history memories of this contraption somewhat differ, but they all agree that the dumbwaiter originated in the downstairs kitchen with its final resting location in the pantry area. After the wall was moved outward, the dumbwaiter's path changed somewhat.
A narrow staircase comes upstairs from the original kitchen and around to the dining room to accommodate Mrs. Jones, Loutie, and niece Becky Dean. The stairs keeps a separation between living space area and more formal space, plus it is a shorter distance.
In the photo take note of the cherry sideboard, flue cap on the wall, and the little gas heater on the floor. The gas heater is no longer here, but the piping for the line is capped. Throughout the home there are capped pipes in the floor showing where heaters were once placed. In the 1930s natural gas was located on the property and was utilized not only by the ranch, but also the nearby towns. The site of origination became known as the Davis Gasfields and the pasture took on the name "Gas House Pasture." Part of the preserve's collection are the paper gas meter reels showing the levels of gas that flowed through each gas well.
Differences in flooring can also be seen. The original flooring was 5 1/4 inch soft pine. The pine flooring can be seen in this photo. Sometime after 1935 a narrow oak flooring was placed in the home, most likely due to termite damage found during later investigation. If you look closely, the original pine boards can be seen under the oak flooring as you travel the main staircase down to the lower levels of the home. Look at the base of the bannister posts as you are on the staircase. Please use the handrail and be careful as you search for clues to the past.