Virtual Tour Limestone Barn 1st Level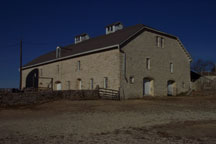 The first floor of this massive three-story limestone barn is built into the north hillside, therefore there are no windows on the north side. The exterior walls are 20 inches thick limestone. The entrance to the main level occurs at grade along the north elevation. In the photo to the left notice the three distinct floors marked by the windows. In the photos below, notice how Jones used the sunlight and its natural path to light the lower level of the barn.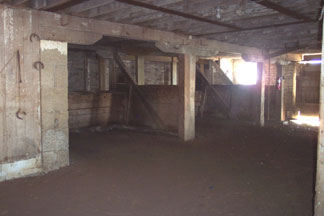 The lower floor was used to stable some of the livestock and for storage of saddles and harnesses in the tackroom. Stephen Jones had 30 horses, 4 mules, 8 milkcows, 200 swine, and 450 cattle according to the Kansas State Census of March 1885. Try to imagine how warm it would be on the first floor during the winter with the body heat of the livestock. Jones used this level for the milkcows, draft teams, and mules. The barn still has much of the original stalls and feed bunks from the 1880s.
We know from historic photos that a small barn was also located adjacent on the southwest corner of the barn. Some of the livestock was most likely housed here as well.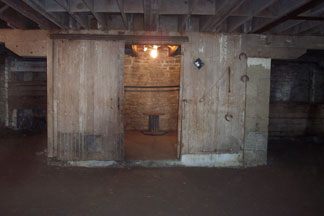 The tack room served the purpose of storage, whether it was saddles, harnesses, collars, or grain. Directly inside and to the left is an oat bin with a metal tube linked directly to an upper level grain storage bin. The grain would fall from this upper storage bin and into the oat bin, awaiting daily use for the feeding of horses and mules.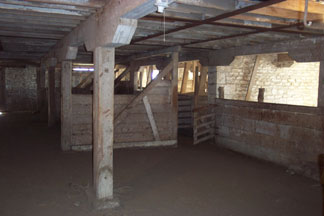 The barn stalls held the draft teams. Each stall has two individual mangers and feed boxes to place the hay, corn, or oats. Directly through the partially open gate in the photo to the left is an alley.The cowboy or hired hand would take the hay dropped through the trapdoor in the floor above and pitch it into the stalls.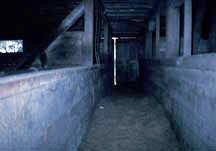 This view shows the alleyway through the partially open gate in the photo above.
As the loose hay was falling through the trapdoor in the floor overhead, imagine walking down the alleyway among the horses and mules pitching hay into the mangers on each side. The simple placement of a trapdoor in the floor above made efficient work of a daily task, allowing better use of time and effort for then quicker movement to the next chore.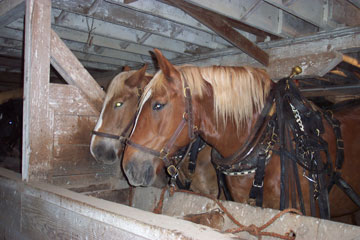 The barn stalls look quite large until the mighty but gentle draft horses make their way inside the barn. Take note at how close their heads are to the ceiling.