Virtual Tour Curing Room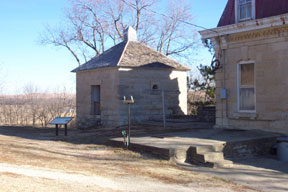 The exact use of this limestone building is still under investigation. The hooks in the ceiling rafters suggest that it was used to cure salted hanging meat. A lack of smoke and soot residue in the ceiling suggests that it wasn't a smoke house. Salted meat was also placed in barrels of brine.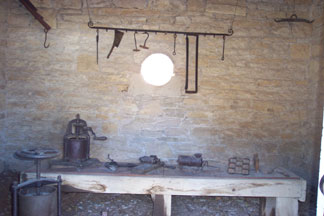 View of the east wall, inside the limestone building. Note one of three round windows for ventilation. Inside on display are implements used in butchering; lard press, sausage stuffer, hog scrapers, knives, meat saw, hook, large iron kettle, and other tools.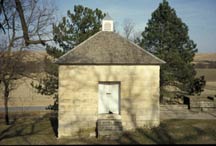 Butchering usually took place in the fall. Hams and other meats were salted down, wrapped in cheesecloth, and hung on hooks in the ceiling of this building. The three port holes caused air to be drawn in from the outside, forcing the salt to move inward toward the meat's interior. This was a very common means of food preservation. Meat was also salted and placed in barrels filled with brine. Before the meat was consumed, it was parboiled to remove the salt.This structure was used as a curing house and beneath it is the spring room.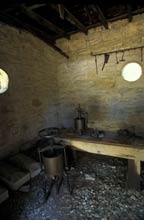 Another interior view of the curing house showing portholes and meat hooks in the ceiling.