Stephen F. and Louisa Jones Family History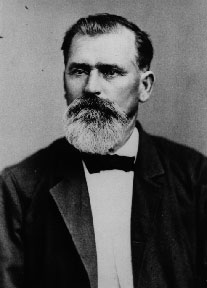 Stephen F. Jones and Louisa M. (Barber) Jones Family
Born November 6, 1826 in Cannon County, TN
Died April 7, 1914 in Wichita, KS
This photo was taken in Emporia, KS around
1879 - 1880 at the age of 53 - 54 years old.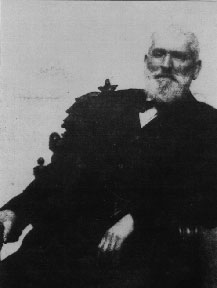 Date and place of photo unknown. We guess the date to
be around 1889 in Kansas City, MO (age 63)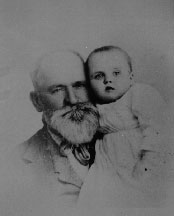 Stephen Jones and granddaughter Mildred Hickman
Mildred was born December 14, 1891. We assume her age at 1 year when this photo was taken in late 1892. Stephen was 66 years old.

Stephen and Louisa Jones raised Mildred after Loutie's death in November 1894 until Louisa's death in 1908.

Louisa Margaret (Barber) Jones
There are no known photos of Louisa. Family members say they do not remember seeing one. Newspaper articles state two different portraits were done in the 1880s of Stephen and Louisa Jones and their two daughters, but these portraits have not been located.

An idea of Louisa's appearance may be surmised by viewing photos of her mother Adeline Barber and Louisa's two daughters, Christiana and Loutie.