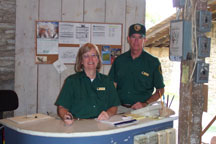 Volunteer in the Parks Program
Volunteer to be a part of our staff at Tallgrass Prairie National Preserve, which serves over 20,000 visitors each year!
Each year millions of visitors enjoy our national parks. Today, the National Park Service includes over 400 sites. Employees have been challenged with a dual mission of conserving and protecting our natural, historical, and cultural resources, as well as providing recreational opportunities. Many individuals assist our parks and their employees by volunteering their time and talents. Those who work in partnership with park employees are called Volunteers-In-Parks, or VIPs.

At Tallgrass Prairie National Preserve volunteers work side-by-side with National Park Service employees at the Park Headquarters/Spring Hill Ranch, in the tallgrass prairie, and at the Lower Fox Creek School. VIPs may work on week days, weekends, mornings, or afternoons. The schedule and amount of time worked will be negotiated. Training for all duties is provided, as well as uniforms for volunteers who work with the public.

As a volunteer, you will not be paid by the federal government. However, you will have the benefit of working with a national park, and there will be other rewards as well. Volunteers are not considered to be federal employees for any purposes other than tort claims and injury compensation. You will meet people from all over the United States and abroad. Also, you will have the opportunity to make the most of your talents, while developing new skills and gaining experiences that will enrich your life and assist you in the present or in future careers.
Volunteer opportunities abound as you may choose from working the Visitor Center desk, presenting living history demonstrations, volunteering at the Lower Fox Creek schoolhouse, assisting with Education Programs, working in the tallgrass prairie, researching special history projects, storytelling, conducting Oral History Interviews, etc. If you would like to volunteer and have a talent or skill not listed above, please contact the Volunteer Coordinator Eric Patterson at 620-273-8494, ext. 242.
Applying to Volunteer
It is very easy to apply. Simply print and fill out the Volunteer-In-Parks Application below or go online and complete via the web. Please be specific in describing your talents, skills and interests; this makes it much easier to place you. Once your application is completed, send it to the address shown below. It will be reviewed to determine if your skills and our needs match. Should you have any questions, please contact Eric Patterson at (620) 273-8494 ext. 242.
---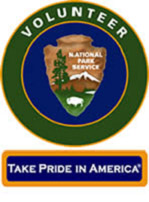 Volunteer Opportunities Abound at Tallgrass Prairie National Preserve

Visitor Information Desk
Greet the general public, provide information regarding park activities and local points of interest, answer the phones, operate the park audio visual program, and assist park rangers with projects. Assist with lost and found items.
Roving Interpretation at the Preserve
While roving, provide dual role of answering questions about the Spring Hill Ranch and protecting the museum displays. Possible opportunities to present formal interpretive programs for the general public and/or school groups exist after appropriate training.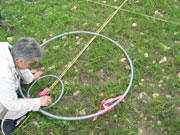 Working in the Tallgrass Prairie
Assist the Natural Resource division with special projects in the prairie. Such projects may consist of gathering seeds, taking water samples, conducting special research projects, and other projects as they arise. Working in the prairie can be very hot, tiring, and dirty work. Volunteers should wear appropriate clothing and use insect spray to protect from ticks and other insects.
Tallgrass Trail Stewards
Walk the hiking trails at the preserve and provide resource information, minor First Aid, and water to our visitors. Volunteers will be required to attend First Aid training prior to beginning this activity. Training and Tallgrass Trail Backpacks will be provided by Tallgrass Prairie National Preserve.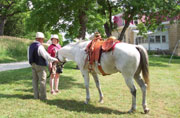 Presenting Living History Demonstrations
As part of our

Living History Program

, you will dress out in period appropriate clothing and demonstrate the life and daily activities of people working on a 19th century ranch. Such activities may include gardening, churning butter, cleaning the stalls, saddling and horsemanship demonstrations, historic cooking, building fence, carpentry demonstrations, wool spinning, quilting, and many other typical ranch chores. All living history clothing will be provided, however you may provide your own if it is correct to the time period being presented. Volunteers will be provided living history training prior to their demonstrations.
Lower Fox Creek School
Volunteer at the Lower Fox Creek School on weekends from noon to 4 p.m. in May, June, September, and October. The one-room school is not air-conditioned and temperatures may reach in the upper 90s, but a cool breeze is usually found at the school. Volunteers will answer visitor questions and provide information about the history of the 1882 Lower Fox Creek Schoolhouse.

Education Programs
Volunteer at the Lower Fox Creek Schoolhouse in the spring with our living history Education Program. Assist park rangers with children as they experience school life of the 1880s in a one-room country school house.
Researching Special History Projects and Conducting Oral History Interviews
Assist park rangers with special research projects using scanned microfilm and by conducting oral history interviews with local citizens who have a connection to the history of the ranch. Projects will also include the transcription of past oral history interviews onto computer.

Other Volunteer Opportunities
Potential opportunities include working in the park library. Here volunteers work on special library projects or process archival collections. With the ranger staff, VIPs assist in the maintenance of permanent exhibits and development of special exhibits. In the administration division, volunteers provide clerical assistance, and in the maintenance division VIPs may assist with grounds or building maintenance.