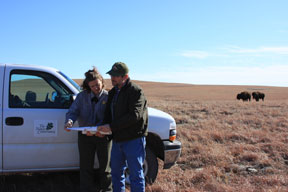 NPS
On November 12, 1996, Tallgrass Prairie National Preserve was established as a unit of the National Park Service. Congress established the preserve as a unique public-private partnership to preserve, protect, and interpret for the public an example of North America's once vast tallgrass prairie ecosystem. The Nature Conservancy is the primary land owner (10,842 acres) with the remaining 35 acres being federal property of the National Park Service, which includes the ranch headquarters area and the Lower Fox Creek one-room schoolhouse. Through a cooperative agreement between the National Park Service and The Nature Conservancy, co-management of the entire preserve serves the dual goals of promoting stewardship of park resources, while providing public access to the privately owned lands.

The National Park Service (NPS) preserves unimpaired the natural and cultural resources and values of the National Park System for the enjoyment, education, and inspiration of this and future generations. The National Park System comprises over 400 areas covering more than 84 million acres throughout the United States and its territories. For more information on the NPS, visit
www.nps.gov
.

The Nature Conservancy (TNC) is a private nonprofit organization dedicated to preserving the plants, animals, and natural communities that represent the diversity of life on Earth by protecting the lands and waters they need to survive. The Conservancy works in all 50 U.S. states and 33 countries worldwide. For more information about the TNC visit
www.nature.org/
.
Operations at the Tallgrass Prairie National Preserve are coordinated between both the NPS and TNC. This means that the functioning of ranch and preserve operations including the preservation of cultural and natural resources, are all provided through the combined efforts of this unique partnership. Some specific results of this collaborative approach to management include the establishment of over 41 miles of hiking trails, a catch and release fishing program on a number of preserve ponds and creeks, patch burning and grazing management to provide a shifting mosaic of diverse prairie habitat, reintroduction of bison after a more than 150-year absence, establishment of native prairie on previously disturbed ground, and engagement in citizen science programs, such as an annual butterfly count. Visitor services include a visitor center with interpretive exhibits, interpretive programs (e.g., guided house tours, bus tours, special interpretive programs along with ranger-guided hikes), and an extensive list of special events and activities throughout the year. TNC has re-acquired all mineral rights to the preserve, forever protecting the historic landscape. TNC manages the cattle leases associated with the ranching operation.