Weather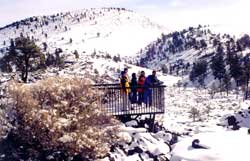 NPS photo by Dallas Larsen
Not all of Arizona is warm dry desert. Weather can vary widely, especially with elevation. At Sunset Crater Volcano (6960'/2121m above sea level), you can expect cool/cold nights year round. Expect windy conditions most of the year.
Spring is usually mild, but heavy snowfall can occur. Summer days are warm with temperatures in the 80s; afternoon thunderstorms are likely July to September. In winter, snow and freezing temperatures alternate with mild weather.
Be prepared for abrupt weather changes in any season. Best advice - dress in layers.

Click here for the current Flagstaff weather forecast.


Did You Know?

When Paricutin erupted in Michoacan, Mexico in 1943, scientists flocked to the site. Observations and studies there have helped to explain the eruption of Sunset Crater Volcano in Arizona 900 years earlier.