Lenox Crater Trail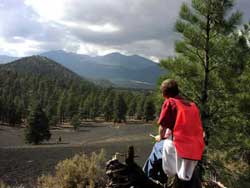 Photo by Joelle Clark
Have you ever wanted to climb a volcano? The Lenox Crater Trail
is your chance. From the top, you can see the San Francisco
Peaks,Sunset Crater, and the Bonito lava flow. When Sunset
Crater Volcano erupted nearly 1,000 years ago, the ash and
cinder filled in the crater at the top of Lenox, so today it looks like
a gentle depression in the landscape.
| | |
| --- | --- |
| Distance | 1 mile round-trip |
| Time | 45 minutes round-tip |
| Difficulty | Strenuous |
| Accessibility | Steep slopes covered with loose cinders |
Did You Know?

Hiking trails to the top of Sunset Crater Volcano were closed in 1973, because extensive erosion was damaging the cinder cone. Although tons of cinders were shoveled into the ruts, trail routes are still visible today.