Cinder Hills Overlook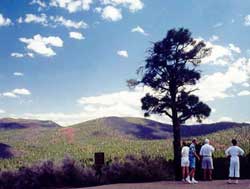 NPS photo
You can drive to this overlook, which offers views of Sunset Crater Volcano, volcanic features associated with its eruption, and various other cinder cones.
Caution: No oversized vehicles. The overlook parking area is small, with tight turns.
Did You Know?

Legend says that 19th-century explorer John Wesley Powell named Sunset Crater Volcano because its rim of red and yellow cinders suggested the colors of a perpetual sunset.