Cinder Hills Overlook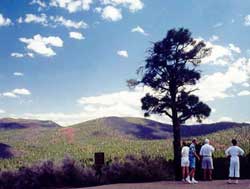 NPS photo
You can drive to this overlook, which offers views of Sunset Crater Volcano, volcanic features associated with its eruption, and various other cinder cones.
Caution: No oversized vehicles. The overlook parking area is small, with tight turns.
Did You Know?

When Paricutin erupted in Michoacan, Mexico in 1943, scientists flocked to the site. Observations and studies there have helped to explain the eruption of Sunset Crater Volcano in Arizona 900 years earlier.