Cinder Hills Overlook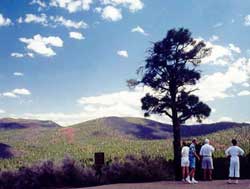 NPS photo
You can drive to this overlook, which offers views of Sunset Crater Volcano, volcanic features associated with its eruption, and various other cinder cones.
Caution: No oversized vehicles. The overlook parking area is small, with tight turns.
Did You Know?

Hiking trails to the top of Sunset Crater Volcano were closed in 1973, because extensive erosion was damaging the cinder cone. Although tons of cinders were shoveled into the ruts, trail routes are still visible today.