Cinder Hills Overlook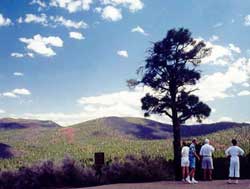 NPS photo
You can drive to this overlook, which offers views of Sunset Crater Volcano, volcanic features associated with its eruption, and various other cinder cones.
Caution: No oversized vehicles. The overlook parking area is small, with tight turns.
Did You Know?

Sunset Crater Volcano is just one of about 600 in the San Francisco Volcano Field. Virtually every mountain you see from here is of volcanic origin.