Cinder Hills Overlook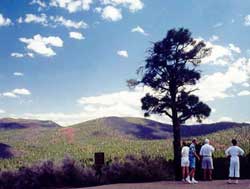 NPS photo
You can drive to this overlook, which offers views of Sunset Crater Volcano, volcanic features associated with its eruption, and various other cinder cones.
Caution: No oversized vehicles. The overlook parking area is small, with tight turns.
Did You Know?

Sunset Crater was nearly dynamited in 1929, to create a landslide for the Hollywood movie "Avalanche". Local citizens were outraged and lobbied for its protection. The result was establishment of Sunset Crater National Monument in 1930. "Volcano" was added to the name in 1990.