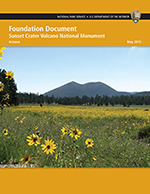 NPS Image
Foundation Document, approved 2015.
This document provides basic guidance for planning and management decisions. It includes a brief description of the park, as well as the park's purpose, significance, resources and values, and interpretive themes.
General Management Plan
, approved 2002.
This document will guide management of Sunset Crater Volcano National Monument for the next 10-15 years. (pdf)
Parks Look for Public Input
You can keep up with the Flagstaff Area National Monuments (Sunset Crater Volcano, Walnut Canyon, and Wupatki) by checking out our projects at the PEPC website, the doorway to Planning, Environment and Public Comment.
PEPC is an online collaborative tool that provides you with unprecedented, easy access to documents used in developing and tracking projects within the National Park Service. It also allows you to tell us what you think about the various projects planned for the Flagstaff Area National Monuments, or other parks nationwide.
Open for public comment 8/15 - 9/15/2008: Repair Shoulders FR 545. To review this project, you can go directly to the "SUCR Entrance Road EA public draft" document.