Diving in Point Reyes National Seashore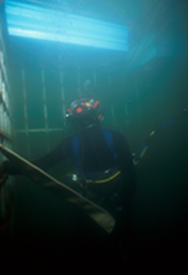 Diver descends in a shark cage
Point Reyes National Seashore is simply one of the most beautiful seashore environments you could ever experienced. Not a white-sand oven "just right for catching rays," it is appreciated for the beauty of its landscape-forests, rolling hills of grass, the gold-brown and grey-white sand of its beaches, and pounding white surf backed by water that ranges from turquoise to navy blue to stained-glass green, depending on the time of day, the color of the sky, and the breeze on the waters surface. During summer, weeks go by when the coast is covered by thick billows of fog.
If it is clear, it will be brilliantly so--trees, animals, and visitors chilled by stiff offshore breezes. Winter brings many clear cold days and some rain. If in spring, the skies are perfectly clear, the reason is probably high winds. That leaves fall as the most auspicious season to visit the northern California coast.
Geographically a peninsula, Point Reyes is geologically an island, separated from the mainland by the San Andreas Fault. The Pacific Plate, on which Point Reyes rides, has been moving in a northwesterly direction for millions of years, sometimes in gentle nudges, sometimes in catastrophic lunges. The Earthquake Trail at the Bear Valley Visitor Center tells the story.
The maritime history of the area is as spectacular as the scenery. This is most probably the scene of Nova Albion, or New England as Sir Francis Drake named his landfall on the west coast of the present United States. Although historians have long debated the particulars, it appears that he put into what is now called Drake's Bay for a month and a half in 1579 in order to service his ship, the Golden Hind, and gather provisions. The bay was also visited by an Acapulco-bound Manila galleon captained by Cermeno in 1595. His ship, the San Augustin, sank in the bay during a storm and has been the object of a search by the National Park Service.
Other ships have come to grief, not only in the bay but on the headlands and along Ocean Beach. These would make for interesting dives were it not that these are high energy areas and difficult to dive. Visibility is marginal for diving, but the water is rich in sea life, both free swimming, and benthic. As discussed below, some of the free-swimming variety are cause for concern.
BASICS
Location: North of San Francisco
Skill level: Advanced
Access: Boat
Dive support: Novato
Best time of year: Fall
Visibility: Poor to moderate
Highlights: Shipwrecks, sea life
Concerns: Breeding ground for great white sharks; cold ocean water, and powerful surge
Rules and Regulations
Dive Site Map
Dive Overview
Though a beautiful park, this is a very problematic place for recreational diving. The surf is extraordinarily high, visibility underwater is mediocre to poor, and the ocean here is a breeding ground for great white sharks. If none of those things bother you, then you're going to have a ball diving at Point Reyes.
The one thing you don't have to worry about here is a crowd of other divers—no head boats pouring a steady stream of scuba equipment into the water attached to human protoplasm, no cutesy names for each bottom feature. We have seen rocky substrate in this area literally covered with albalone, even in places where harvesting is allowed. Taking the limit in three minutes is no fish story. Just make sure it is in season and there is no moratorium in effect.
One may access the water using an inflatable at Limantour Spit on a good day with a bit of skill and luck. There is no public pier within Point Reyes National Seashore.
SHARKY, FOGGY WATERS
While swimming at Point Reyes try not to look like white shark food. Since great whites are reputed to eat everything, this may be difficult. Talk to the rangers at the visitor center. This park has traditionally maintained a dive team, though that changes from year to year. They will know the latest regarding diving conditions and any special circumstances of which you should be aware. Point Reyes fog is the real thing. Don't venture offshore without a compass in the boat and make sure you have one with you in the water. Radar on your boat is highly recommended.
Dive Sites
MUNLEON
There are several shipwrecks in the surf zone along the headlands. The easiest to dive is the Munleon, a 1919-built package freighter that sank here in 1931. This is a fascinating wreck, full of colorful anemones and alive with fish. Keep in mind that the swells dumping their energy in this area have the fetch of the entire Pacific behind them. Although the day may be fair and the surface free of wind chop, the smooth, heavy surge has enough power to take you through the wreckage like cheese through a grater if you are careless. The wreck is located in the small cove just off of Sail Rock, 1.3 miles west of Chimney Rock, or if coming from the other direction, 1.9 miles east of the Point Reyes Lighthouse.
Water depth over the site ranges from 15 to 35 feet and the visibility averages five feet. The vessel's screw, shaft tunnel, anchor, boilers, and triple expansion steam engine are available for inspection, along with large pieces of flattened metal hull. Hard surfaces are very rich in benthic growth and fish are plentiful.
RICHFIELD
At the eastern end of the Headlands approximately a quarter mile off Chimney Rock is the remains of the Richfield, which was stranded here in 1930 carrying 30,000 gallons of gasoline. Wreckage is strewn through gullies on the submerged reef and seems to be more plentiful as one swims SE over the reef's spine.
An interesting dive for wreck-diving addicts. For others, the currents, low visibility, and lack of exciting wreck features make this a marginal choice.
DRAKE'S BAY
Alas, the calmest place in the park to dive is also the least interesting for most divers. True, the oldest shipwreck on the West Coast lies here, but a 20-foot sand overburden makes it difficult to enjoy. Those cliffs you see on the other side of the surf zone have been crumbling and been re-deposited offshore for the past four centuries since the San Augustin came to rest here. Only by freak chance would any of it be uncovered. Should you happen on any porcelain or the like on land or underwater, report it to the park staff.
POMO
Also in Drake's Bay are the remains of the Pomo, a steam schooner that ended up overturned in the shallows after another steamer tried to tow it to safety during a fierce gale in 1914. It is by far the easiest wreck in the park to locate because the triple expansion steam engine still protrudes above the surf line. Should you decide to look it over, be careful of your approach in a small boat. It is probably best to drop divers off and leave an operator on the boat. Again, visibility is low, but depending on what recent storms have uncovered, you could see a lot of wreckage. And if you get in trouble you can usually just stand up.
All in all, this park is marginal for diving for any but experienced salts. But, what the heck; give it a shot if you'd like a baptism of fire in Northern California sub-aquatic adventure. As for us, we've been there-so we're heading south to the Channel Islands. Have a wonderful time.
Diver-down flag must be displayed while divers are in the water.
Removing artifacts is forbidden by California law.
Taking of game is regulated by California Fish & Game. Ask rangers for regulations.
Last Updated: October 25, 2012