Diving in Glen Canyon National Recreation Area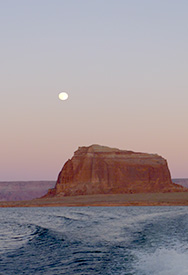 Moonrise at Glen Canyon
Lake Powell is one of those dammed river-lakes the enjoyment of which is attended by a modicum of guilt. Even if you're gliding along a cool expanse of Lake Powell in a comfortable houseboat, surrounded by a rainbow of geologic strata, stunning sandstone formations, and solitude, it's hard to forget what made it all possible: the flooding of the northern reaches of Glen Canyon by the Colorado River when it was backed up behind Glen Canyon Dam.
Beneath the 250-square-mile lake lies the snaking ghost of the old river bottom and the flooded ruins of hundreds of ancient Anasazi Indian sites. The visually pleasing steep canyon walls around your houseboat may drop another 500 feet to the original river bottom. The not-so-visually-pleasing white bathtub ring you see above the water level is the calcium carbonate residue that adhered to the rock when the water was higher.
Guilt-ridden or not, we admit we have had many wonderful days on and about this man-made lake. Whether from the shore or a boat we find its many miles of shoreline easily accessible and eminently diveable. It is also a good place to reflect on such conundrums as parks and rivers and who they're for and people's need for electricity and land reclamation and what you would choose to do about damming rivers if you were king of the world.
If you come, bring along some of Wallace Stegner's books, Marc Reisner's Cadillac Desert, and a couple of Edward Abbey books. His Desert Solitaire is best, but if you're into offbeat novels you can't beat The Monkey Wrench Gang. The plot of this book revolves around an attempt by a group of environmentally fixated social outcasts (self-dubbed "eco-warriors" to blow up Glen Canyon Dam by way of a houseboat full of explosives).
While enjoying the natural beauty of the canyon, take the opportunity to learn some of its history. From the first U.S. exploratory expedition led by John Wesley Powell, to the trials and tribulations of Mormon pioneers, to the wild attempts by gold prospectors to navigate the river, there is plenty to learn about during your stay. The area around Lee's Ferry even ended up the focus of a long aside in one of the Sherlock Holmes series by Arthur Conan Doyle. Which one? We'll let you solve that mystery. It's elementary, dear reader.
BASICS
Location: Colorado River-southern Utah and northern Arizona
Elevation: 3,700 feet
Skill level: Advanced
Access: Limited diving by shore, unlimited by boat
Dive support: Page, AZ
Best time of year: Spring, fall, and summer
Visibility: Moderate to good
Highlights: Submerged road and bridges, good dropoffs, some fish
Concerns: Winds roil waters at any time of year making lake dangerous; jet boats and skiers l
Rules and Regulations
Dive Site Map
Dive Overview
Diving here is pleasant, a relief from the summer heat, and fun where the water is clear and there are sheer canyon walls amidst which to dive. It is often very windy in March and April, and storms can whip up a strong wind any time of year. Don't underestimate the ferocity of Lake Powell when its waters get roiling-find a place to pull off and beach until things calm down.
Open to anybody capable of launching a boat, these big lakes play host to some who load their boats with cases of beer and proceed to get soused. In the ranger reports we see each morning as a part of our jobs, we have read many accounts of tragic accidents involving boaters, swimmers, and jet-skiers, and too often these accidents are caused by inebriated fools. Take special care to display diver flags and keep a surface monitor with an air horn (M16s are not allowed in the park) to help enforce it.
Not many dive sites in this lake are named and known, probably due to the fact that they change with every change in water level, and because there are so many of them. There are good dive sites all over the place, and with some 1,900 miles of shoreline you shouldn't run out of places to look for new ones. A rule of thumb-in trying to decide if an area is diveable is to look at the topography above the water, because it is more or less what you will find under the water. With so many places to explore, you might consider renting a houseboat and spending a week exploring the canyons both above and below the water.
The best way to find out the current hot-spots for diving is to stop by Twin Finn Diving Center in Page, Arizona, and ask them. They are diving the lake all the time and keep track of the changing conditions.
Dive Sites
ANCHOVY POINT WALL
Anchovy Point is a short boat ride from Wahweep marina and just a short distance from the Glen Canyon Dam. The dive site is on the south side of Antelope Island along the shore of the island that faces the dam. Diving this wall is for those who have their buoyancy under control, as it a sheer drop to the bottom of the canyon. The day we dove, the visibility was in excess of 60 feet. It was like free falling down the side of the canyon, but with the gentle, comforting lift provided by our BCs and the water. Looking up from 120 feet to see the sun filter over the rim with the scatter of light rays reaching for the depths gave us a feeling of warmth in the chilly 52-degree water. After passing a school of striped bass that gave us a startled, curious look-probably wondering what in the world we were-we swam up over some small ledges and found a convenient notch in the canyon wall to perch in for a safety stop.
PINNACLES
Pinnacles refers to a geological feature that can be found throughout the park that provides good diving. These are essentially the same pinnacles that you see as you look around the landscape of Lake Powell, only they are submerged. They form an underwater island with a wall dive all the way around it. Because they are usually out in open water, they tend to attract schooling fish. To find them you need to have a good depth sounder on your boat and either patience or good local knowledge. You motor along the shoreline in areas that have good relief topside and look for spikes rising toward the surface on your depth sounder screen. Once you find a spike, motor around it in different directions to see if it falls off in all directions. If it does, grab your tanks and have a look-you many have just found a great dive site.
Diver-down flags must be displayed while divers are in the water.
No spear fishing is allowed in the recreation area. (This could change to conform with the state Fish & Game regulation but as of this writing it has not. Check with park authorities for the current status on this regulation.)
Last Updated: October 24, 2012