Submerged Resources Center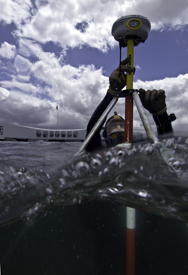 SRC Archeologist taking points with a gps on the USS Arizona Memorial
Perhaps the best-kept secret of our National Parks is the underwater realm that they include: millions of acres of submerged lands, only a fraction of which have been explored by divers.

From the geysers on the bottom of Yellowstone Lake and the coral reefs of the Dry Tortugas, the National Parks have much to offer recreational divers.

NEW! JR Ranger Underwater Explorer Guide is now available online!

---
Preserving Our Submerged Heritage
With increasing awareness of America's underwater cultural heritage, the US National Park Service began documenting the location and condition of shipwrecks in the 1960's. This activity accelerated in the 1970's as park managers became more aware of the richness and international importance of submerged resources in the National Park System.


---
Other Resources
SRC Multimedia

Videos produced by the Submerged Resources Center
SRC Publications

Submerged Cultural Resource Studies
Ocean Video Series

Underwater footage provided by Submerged Resources Center.
Last Updated: April 7, 2014