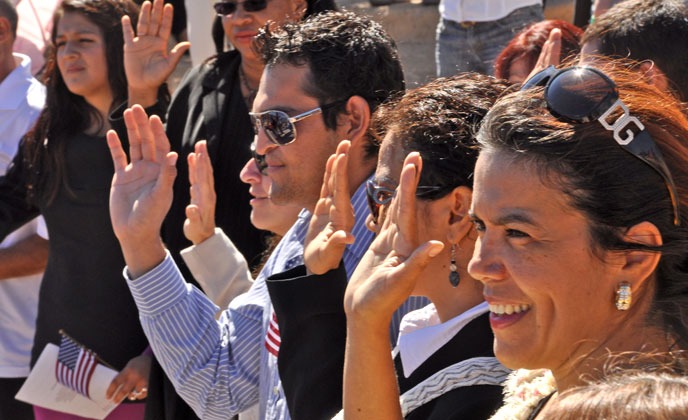 NPS/Michael Quinn

They've waited years to hear these words, "raise your right hand for the oath of citizenship." And now, for some, they speak the oath in America's most special places—its national parks. Imagine committing yourself to your new country under the towering cliffs of Yosemite or the watchful gaze of the Statue of Liberty.
"I can't think of places more appropriate to welcome our newest citizens than national parks," said National Park Service Director Jonathan Jarvis. "National parks preserve significant natural resources and cultural heritage sites and are places where one can learn about and reflect on the American identity and the responsibilities of citizenship."
The National Park Service and the U.S. Citizenship and Immigration Services have an official partnership that encourages both agencies to co-host naturalization ceremonies in these special places set aside for public enjoyment and historical commemoration.
In 2014, 30 national parks held ceremonies for nearly 1,000 new Americans. Celebration sites included Federal Hall, Mount Rushmore National Memorial, the St. Louis Arch, and Yellowstone National Park.
See the list below for ceremonies taking place in 2016. We'll add new events as we learn of them.

For more information about the naturalization process, go to U.S. Citizenship and Immigration Services.