Science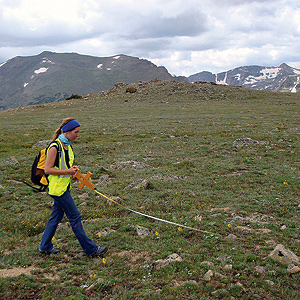 NPS photo
National parks and other protected areas offer laboratories for climate science. They encompass some of most pristine lands in the country, including areas that remain relatively free of human influence. Many have been studied and monitored for years. In many cases these areas provide the best baselines from which to study the complex interactions of natural systems. In addition to studying these natural processes, our cultural and archeological sites give us insight into how people have affected and responded to changes in their environments in the past. The longevity and health of our national parks will depend heavily on park managers' ability to access and apply sound science to preserving these lands entrusted to them by the American people.
The National Park Service aims to:
Use the best available scientific data and knowledge to inform decision making in regard to climate change.
Collaborate with partners to develop, test, and distribute the best results from climate change models to inform NPS activities.
Inventory and monitor key attributes of natural and cultural resources, and the visitor experiences likely to be impacted by climate change.
Acquire, provide, and apply scientific information to reduce the National Park Service's carbon footprint.
Showing results 1-1 of 1
In 2010 the National Park Service began to study the link between population declines of desert bighorn sheep and the effects of climate change. Read more