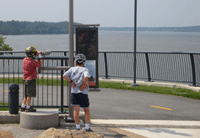 Download a copy of the Interpretive Plan.
What's included:
primary interpretive themes and desired visitor experiences;
scenarios to imagine what a Trail visitor might do and learn and how they might reflect on their visit;
visitor experience goals;
an action plan for implementing exhibits, audiovisual programs, waysides, publications, facilities, personal services, and partnership activities;
an evolving list of War of 1812-themed projects and programs underway throughout the Trail region;
templates for partners to develop their own interpretive strategy using the Trail interpretive plan as a guide.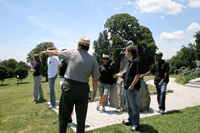 What is Interpretation?
Interpretation is telling a story.

Effective interpretation increases visitor understanding and appreciation of a park or trail's resources.
What is an Interpretive Plan?
An Interpretive Plan is a blueprint for a park or trail's interpretive program.
The Trail Interpretive Plan helps the National Park Service and its partners tell stories of the War of 1812 in the Chesapeake in ways that encourage intellectual and emotional connections between visitors and the resources, sites and people that tell these stories. Visitors to the Trail should have the opportunity to learn about more than just military events, and to be inspired by what they learn and do to connect what happened 200 years ago with the things they learn and do today.
The Star-Spangled Banner Trail Interpretive Plan lays the foundation for developing interpretation along the Trail utilizing themes that help visitors connect the stories they learn about in one place with the stories they have heard in another. The plan lays out a strategy for partners and the National Park Service to develop and maintain cohesive interpretation Trail-wide, in varying formats and to a range of visitor audiences, over the next 5 to 10 years.

Who contributed to this plan?
The Interpretive Planning process began in fall 2009, when eight workshops were held throughout the Chesapeake Bay. The Trail's legislation, feasibility study and other reports and studies also influenced the plan.
Click here to learn more about public involvement in the planning process.