Park Tour Road Closed Unitl 8 AM on Saturday September 13, 2014

The park tour road and visitor center parking lots will be closed until 8 AM while permitted 5K & 10K race passes through the park. Portions of the Old Nashville Highway will be closed as well.
Your Safety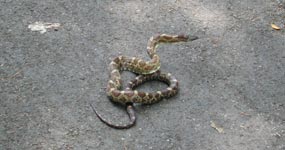 Your safety is our top priority!
Watch your footing in fields and on unpaved trails.
Pedestrians should use trails or walk on the side of roads at all times.
Always cross the Old Nashville Highway at marked crosswalks.
Stay on the marked trails.
Drink plenty of water when walking or biking in the park.
Bicyclists should ride only on designated roads and obey all traffic laws.
Do not approach wildlife in the park.
In case of injury, contact us at 615-893-9501. Call 911 in an emergency.


Did You Know?

The United States Sanitary Commission, a civilian organization, worked feverishly to improve health conditions at Fortress Rosecrans and in Union camps and hospitals across the nation. Their efforts probably saved thousands of lives. More...