Park Tour Road Closed Unitl 8 AM on Saturday September 13, 2014

The park tour road and visitor center parking lots will be closed until 8 AM while permitted 5K & 10K race passes through the park. Portions of the Old Nashville Highway will be closed as well.
Weather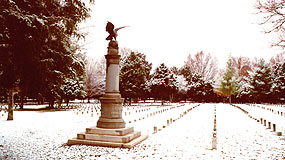 Climate
Summer is hot and humid with highs in the 90s. Spring and fall are pleasant. Winter temperatures are variable, but temperatures may drop below freezing with occasional snow.


Did You Know?

The Hazen Brigade Monument, built in early 1863, is the oldest, intact Civil War monument in the nation.