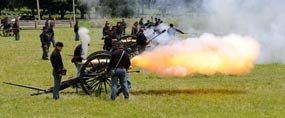 Join us for an opportunity to see demonstrations of Civil War weapons and equipment while learning more about the people affected by the Battle of Stones River. Check the Calendar for program times and detailed program descriptions.
March 14-15, 2015: Camp of Instruction - Visitors get the chance to train alongside our volunteer soldiers as they learn the skills of Civil War artillery and infantry. Program Schedule
April 25-26, 2015: The War Winds Down in Murfreesboro - Military and civilian programs will highlight events in Murfreesboro as the Civil War comes to close. Program Schedule
May 16-17, 2015: Civil War Fun and Games - A Kids To Parks Day Event - Celebrate Kids To Parks Day and bring your family out to the battlefield. Join soldiers and civilians as they enjoy the games and entertainment that helped lighten the mood in camp and on the home front. There will be plenty of activities, large and small, for every family member. Games will run from 10 AM to 3:30 PM each day with an hour break for lunch at noon.
June 13-14, 2015: On To Chattanooga: A Campaign of Contrasts - Watch artillery and infantry demonstrations as a ranger compares how the two armies that fought at Stones River prepared for the Tullahoma Campaign. Program Schedule
July 18-19, 2015: "The Most Terrible Cannonading" - Cannons and crews from several states will assemble on the battlefield to tell the story of the artillery at the Battle of Stones River through the accounts of Confederate soldiers who faced the big guns and demonstrate the firing of Civil War cannon. Program Schedule
August 8-9, 2015: Hazen's Brigade at Hell's Half Acre - Musket and Cannon demonstrations will accompany ranger talks that detail the four attacks that Col. William B. Hazen and his men stopped on December 31, 1862. Program Schedule
September 12-13, 2015: Tennessee at Stones River- Learn more about the role of Tennessee soldiers wearing blue and gray in the Battle of Stones River while watching musket and cannon firing demonstrations. Program Schedule
December 26, 2015 to January 3, 2016: 153rd Anniversary Programs - Join rangers and volunteers for a variety of walks, talks, tours and living history demonstrations that will tell the story of one of the most significant battles of the Civil War, the Battle of Stones River. Program Schedule