Living History Programs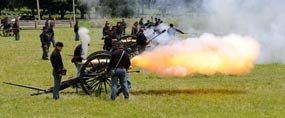 Join us for an opportunity to see demonstrations of Civil War weapons and equipment while learning more about the people affected by the Battle of Stones River. Check the Schedule of Events for program times and detailed program descriptions.
March 23-24, 2013: The Camp of Instruction - Watch park volunteers train to fire muskets and cannons and then try your hand at the drill of a Civil War soldier. Program Schedule
April 13-14, 2013: Living Under the Guns - Experience the occupation of Murfreesboro through the eyes of soldiers and civilians. Program Schedule
May 4-5, 2013: Fortress Rosecrans - Walk through the remnants of one of the largest fortifications constructed during the Civil War and discover how Fortress Rosecrans helped the Union army drive to Chattanooga and beyond. Program Schedule
June 15-16, 2013: Tullahoma Campaign 150th Anniversary - Watch soldiers demonstrate the use of weapons from cannons to repeating rifles as they share the story of the campaign that drove the Confederates from middle Tennessee. Program Schedule
July 20-21, 2013: Artillery Saves the Day - See, hear, and feel the power of cannons firing and learn how Union artillery won the Battle of Stones River.
August 3-4, 2013: Stones River in Gray - Visitors will get a chance to watch Confederate infantry and artillery demonstrations and experience the Battle of Stones River from the Confederate perspective.
September 7-8, 2013: Chickamauga Connections - Watch artillery and infantry demonstrations as a ranger tells the story of soldiers and units that played key roles in both the Battle of Stones River and the Battle of Chickamauga.
October 26-27, 2013: Fighting for Freedom - The Thirteenth United States Colored Infantry - Explore the stories of formerly enslaved men from Murfreesboro who picked muskets and fought for their freedom 150 years after formation of the Thirteenth United States Colored Infantry.
November 2-3, 2013: Confederate Hoofbeats- Watch Confederate cavalry manuever and fire while learning how the mounted arm of the Confederate Army of Tennessee affected the course of the Civil War in middle Tennessee. Program Schedule
December 26, 2013 to January 2, 2014: 151st Anniversary Programs - Join rangers and volunteers for a variety of walks, talks, tours and living history demonstrations that will tell the story of one of the most significant battles of the Civil War, the Battle of Stones River.
Did You Know?
The open areas in Stones River National Battlefield's forests are called cedar glades. These fragile ecosystems, and the plants that live there, are unique to middle Tennessee. More...