Living History Programs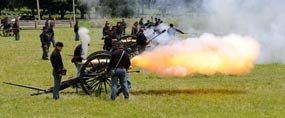 Join us for an opportunity to see demonstrations of Civil War weapons and equipment while learning more about the people affected by the Battle of Stones River. Check the Schedule of Events for program times and detailed program descriptions.
May 3-4, 2014: Camp of Instruction - Visitors get the chance to train alongside our volunteer soldiers as they learn the skills of Civil War artillery and infantry. Program Schedule
June 14-15, 2014: Kennesaw Mountain Connections - Watch artillery and infantry demonstrations as a ranger tells the story of soldiers and units that played key roles in both the Stones River and Kennesaw Mountain Campaigns. Program Schedule
July 19-20, 2014: "The Most Terrible Cannonading" - Cannons and crews from several states will assemble on the battlefield to tell the story of the artillery at the Battle of Stones River through the accounts of Confederate soldiers who faced the big guns and demonstrate the firing of Civil War cannon. Program Schedule
August 9, 2014: A Day in the Life of the Ninth Kentucky Infantry, US - Experience the daily life of a soldier, and the parallel life of their loved ones at home as the men of the Ninth Kentucky keep to the schedule in General Orders No. 8 from the papers of their very own Marcus Woodcock. Program Schedule
August 10, 2014: The Ninth Kentucky Infantry, US at Stones River - Made up of Unionists from Kentucky and middle Tennessee, the Ninth Kentucky Infantry, US found themselves embroiled in some of the most important moments of the Battle of Stones River. Listen to their story as told by one of their own, Marcus Woodcock, and watch the soldiers demonstrate the fighting skills they used on the battlefield more than 151 years ago.Program Schedule
September 6-7, 2014: Arkansas at Stones River- Learn more about the role of Arkansas soldiers in the Battle of Stones River while watching musket and cannon firing demonstrations.
October 11-12, 2014: Confederate Hoofbeats- Watch Confederate cavalry manuever and fire while learning how the mounted arm of the Confederate Army of Tennessee affected the course of the Civil War in middle Tennessee. Program Scehdule
December 6-7, 2014: 150th Anniversary of the Battle of the Cedars- Park rangers and volunteers will present an array of programs commemorating the last battle at Murfreesboro which set the stage for the climactic Battle of Nashville one week later.
December 26, 2014 to January 3, 2015: 152nd Anniversary Programs - Join rangers and volunteers for a variety of walks, talks, tours and living history demonstrations that will tell the story of one of the most significant battles of the Civil War, the Battle of Stones River.