The Legacy of Stones River
Causes & Consequences
Saturday October 18, 2014
First Presbyterian Church & Stones River National Battlefield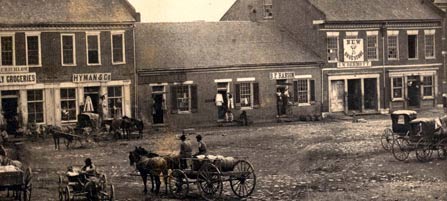 As we commemorate the 150th anniversary of the Civil War in Murfreesboro, join us to explore the conflicting emotions of southerners at the outset of the conflict and the destruction caused by four years of war.
Program Schedule
First Presbyterian Church - 210 N. Spring Street, Murfreesboro, TN
9 AM - Check-in/Registration & Continental Breakfast
9:30 AM - Welcome
9:45 AM - Erskine Clarke - American Missionaries in West Africa;Slavery;and the Civil War
Follow the travels of a southern couple in Africa where the harsh realities of the trans-Atlantic slave trade lead them to become ant-slavery advocates only to be faced with the terrible choice between their newfound values and their homeland.
10:15 AM - Break
10:30 AM - Megan Kate Nelson - Among the Ruins: Charles F. Morse and Civil War Destruction
Charles F. Morse was a twenty-one-year-old architect when he volunteered for the Union army in April 1861. Over the next four years he fought with the 2nd Massachusetts in Virginia, Tennessee, Georgia, and South Carolina, encountering (and sometimes bringing about himself) the destruction of cities, houses, forests, and bodies. This talk examines Morse's experiences with wartime destruction and argues that they exemplify the many and varied ways that soldiers understood the ruins of their nation during the American Civil War.
11 AM - Questions & Disccussion
11:15 AM - Noon: Book Signings by Speakers
Stones River National Battlefield
1 PM - Joseph Palmer: A Reluctant Leader
Join a ranger for a talk detailing the struggle of the former mayor of Murfreesboro as he transitioned from an opponent of secession to leading his fellow townspeople into the jaws of death at the Battle of Stones River. (30 minutes)
2 PM - Battle Scars
Take a walk through the battlefield and imagine the damage left behind by the terrible struggle of 81,000 soldiers. (60 minutes)
Registration Fee: $10.00 per person
Registration Deadline: October 16, 2014
Register Online and Pay By Credit Card
You may also register and pay by check or cash at the park visitor center.
The Legacy of Stones River - Past Programs

Learn more about previous programs in this series. Read More

Tennessee's Civil War

Explore the people, places, and stories that made Tennessee a key player in the American Civil War. Read More

Follow Stones River

We use several Social Media sites to reach out to our visitors and continue the conversation. Read More