Park Tour Road Closed Unitl 8 AM on Saturday September 13, 2014

The park tour road and visitor center parking lots will be closed until 8 AM while permitted 5K & 10K race passes through the park. Portions of the Old Nashville Highway will be closed as well.
Plan Your Visit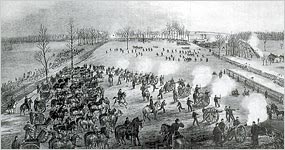 A.E. Matthews
Welcome to Stones River National Battlefield!
We hope these pages will help you plan a visit that will allow you to enjoy and appreciate the unique resources and stories connected to the Battle of Stones River, one of the bloodiest and most important battles of the Civil War.
If you cannot find the information you need here, please contact us.


Schedule of Events

Check out what's happening at Stones River National Battlefield. Read More

The Legacy of Stones River: Causes & Consequences

Explore the conflicting emotions of southerners at the outset of the conflict and the destruction caused by four years of war. Read More

Tennessee Civil War Sesquicentennial Website

Learn more about places in Tennessee to visit during the 150th anniversary of the Civil War. Read More
Did You Know?

The men of Parsons' Battery, Batteries H & M of the Fourth U.S. Artillery, fired 2,199 cannon rounds during the Battle of Stones River. That was more than ten percent of all of the Union artillery rounds fired during the battle.