Park Tour Road Closed Unitl 8 AM on Saturday September 13, 2014

The park tour road and visitor center parking lots will be closed until 8 AM while permitted 5K & 10K race passes through the park. Portions of the Old Nashville Highway will be closed as well.
Operating Hours & Seasons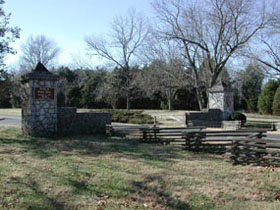 Open:
8 AM to 5 PM Daily
Closed:
Thanksgiving & December 25th
The park is open to visitors on foot or bicycle from sunrise to sunset every day by using trails from the Stones River Greenway or parking at the Hazen Brigade Monument Tour Stop #5 parking lot on Old Nashville Highway.
Getting Around

Allow about two hours to see the museum and take the self-guiding tour of the battlefield. If you wish to visit other sites such as Fortress Rosecrans, allow more time.


Did You Know?
Nathan Bedford Forrest and his men were defeated by a Union force in a small battle along the Wilkinson Pike. The Battle of the Cedars was fought on December 7, 1864.