Hallowed Ground: Lantern Tours of Stones River National Cemetery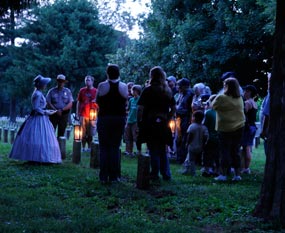 Join a park ranger for an hour-long walk by lantern light through Stones River National Cemetery. Visitors will get a chance to appreciate the human stories housed within the cemetery by listening to soldiers and civilians share their experiences through the letters they wrote and received during the conflict.
Reservations are required and must be made by calling (615) 893-9501 starting on the Monday before each program. Reservations will not be taken in the visitor center or by e-mail. There is a limit of four tickets per caller and reservations are not transferable to another program date.
2015 Hallowed Ground Schedule
June 4, 2016 (Make Reservations on May 30, 2016) - Tour Time: 7:45 PM
June 18, 2016 (Make Reservations on June 13, 2016) - Tour Time: 7:45 PM
July 9, 2016 (Make Reservations on July 4, 2016) - Tour Time: 7:45 PM
July 23, 2016 (Make Reservations on July 18, 2016) - Tour Time: 7:30 PM
August 6, 2016 (Make Reservations on August 1, 2016) - Tour Time: 7:15 PM
August 20, 2016 (Make Reservations on August 15, 2016) - Tour Time: 7 PM
September 10, 2016 (Make Reservations on September 5, 2016) - Tour Time 6:45 PM
October 1, 2016 (Make Reservations on September 26, 2015) - Tour Time 6:15 PM