Guided Tours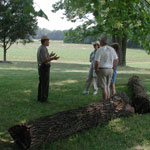 Park rangers and volunteers offer guided tours of the battlefield on a regular basis from may through October. Most battlefield tours are caravan tours. Visitors follow the tour leader in their own vehicles. There are also occassional walking and bike tours. See the Schedule of Events for dates and times.
Special group tours, including staff rides for military groups, may be offered based of staff availability. Contact us to schedule a special battlefield tour.


Staff Rides

Learn more about professional development programs for members of the armed forces. Read More
Did You Know?
Nathan Bedford Forrest and his men were defeated by a Union force in a small battle along the Wilkinson Pike. The Battle of the Cedars was fought on December 7, 1864.