Park Tour Road Closed Unitl 8 AM on Saturday September 13, 2014

The park tour road and visitor center parking lots will be closed until 8 AM while permitted 5K & 10K race passes through the park. Portions of the Old Nashville Highway will be closed as well.
Guided Tours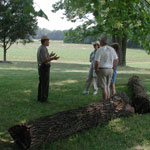 Park rangers and volunteers offer guided tours of the battlefield on a regular basis from may through October. Most battlefield tours are caravan tours. Visitors follow the tour leader in their own vehicles. There are also occassional walking and bike tours. See the Schedule of Events for dates and times.
Special group tours, including staff rides for military groups, may be offered based of staff availability. Contact us to schedule a special battlefield tour.


Did You Know?

Brig. Gen. Joeseph Palmer, who commanded a Confederate brigade during the Battle of Stones River, had been the mayor of Murfreesboro prior to the outbreak of war. More...