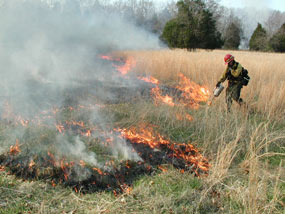 The staff at Stones River National Battlefield plans prescribed burns in six areas of the park to manage natural resources before May 2011. Specific dates will be announced as they become available.
Some closures of park areas may be required. These prescribed burns are a part of our Fire Management Plan, which we developed with public and professional participation in 2003.
The six areas to be burned include Redoubt Brannan on West College Street across from the Rutherford County Emergency Management Agency, and five sites on the main battlefield at 3501 Old Nashville Highway.
The burns will be conducted only if weather conditions fall within a narrow range that provides for the greatest safety and best smoke management, and will result in natural resource improvements. Specially trained wildland firefighters from the Natchez Trace Parkway and Stones River National Battlefield will manage the prescribed burns.
The local news media, volunteer fire departments, and the City of Murfreesboro Fire and Police Departments will be notified prior to all burns. If you have any questions please call Gib Backlund, Chief of Operations at 615-893-9501 during business hours Monday through Friday.