Native Plant Restoration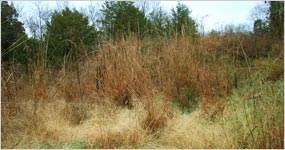 Native plants are critical to a healthy park ecosystem. They provide a diversity of food and shelter to animals and insects. Native flowers bring a beautiful array of color to the battlefield, and grasses with extensive roots also protect cultural resources like the earthworks of Fortress Rosecrans from erosion.
Eliminating exotic plants from the park encourages the growth of native species, but sometimes they need help. In some areas seed and live plants are planted to help restore native plant populations to the battlefield.