Girl Scout Ranger Program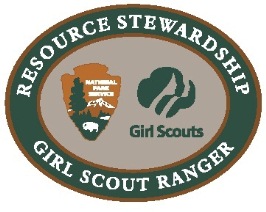 The Girl Scout Ranger program is a cooperative effort between the National Park Service and the Girl Scouts of the United States of America and is a component of the GSUSA's Elliott Wildlife Values Project "Linking Girls to the Land" program.
To recognize their leadership efforts and resource stewardship activities, girls earn certificates and/or patches for their involvement in educational, volunteer or action projects.
Earn a certificate
Earn a patch
Participate for

ten hours

in either an educational program or volunteer service or action project.
Girl Scouts will be awarded a patch upon verbally reporting their completion of the program requirements to an NPS employee or volunteer at a visitor center. Stones River National Battlefield generally has a supply on hand, but it is a good idea for a Scout or a troop leader to call ahead to be sure we have one waiting for you when you arrive. Patches are not mailed out.
Scouts interested in keeping a log of their hours may use the Activity Sheet. This is not a requirement, but keeping track may assist you in determining how many hours you have completed.