Fighting For Freedom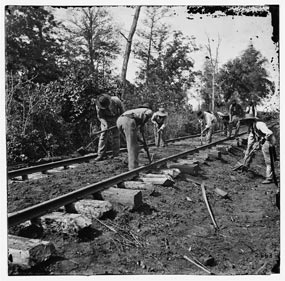 After the Union Army came to Tennessee, William escaped to the Federal camps in search of his freedom. He likley worked as a laborer at first.
In 1864, William Holland joined the Union army as a private in the 111th Regiment of the U.S. Colored Troopers (USCT). For six months in 1864, Holland's unit guarded railroads in middle Tennessee and northern Alabama. In September 1864, Confederate soldiers under General Nathan Bedford Forrest attacked the fort held by Holland and his unit. The success of Forrest's attack forced almost a thousand Union soldiers, including William, to surrender.