Park Day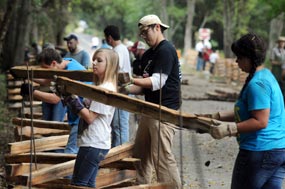 NPS PHOTO
How would you like to spend a Saturday morning helping preserve part of our nation's history while getting a free lunch and a t-shirt? Stones River National Battlefield calls upon our friends and neighbors to join us at the McFadden Farm on Saturday April 5, 2014 as we work to restore the historic landscape where fifty-seven Union cannons beat back the last Confederate assault on January 2, 1863. Volunteers and park staff will eliminate invasive exotic plants, plant trees and shrubs in the Stones River floodplain, and remove trash and non-historic fences.
Sign-up today by contacting Troy Morris at 615-893-9501 or e-mail us. The Friends of Stones River National Battlefield will provide pizza lunch for all volunteers who register by April 3, 2014, and the first fifty registrants will receive a commemorative t-shirt courtesy of the Civil War Trust.
We will join volunteers across the nation and team up with the Civil War Trust, History™, and Take Pride in America at more than 98 historic sites across the country to participate in the 18th annual Park Day. Since its inception in 1996, Park Day has attracted volunteers of all ages and abilities bound by their dedication to serving their communities. In 2013, nearly 8,000 volunteers at 105 historic sites across the country donated more than 36,000 service hours. This year, organizers hope to build on these impressive figures.
WHAT:National "Park Day" Volunteer Project
WHEN:Saturday April 5, 2014 – Check-in begins at 8:30 a.m.
WHERE:McFadden Farm, Tour Stop 6 at 2600 Van Cleve Lane, Murfreesboro, TN
Learn more

about the Civil War Preservation Trust.