Park Tour Road Closed Unitl 8 AM on Saturday September 13, 2014

The park tour road and visitor center parking lots will be closed until 8 AM while permitted 5K & 10K race passes through the park. Portions of the Old Nashville Highway will be closed as well.
Professional Development
The Teacher-Ranger-Teacher program provides an extended professional development opportunity for teachers to learn about the resources and educational materials available through the National Park Service.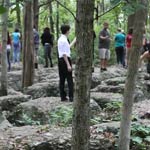 2013 TRT Application
Learn More
Stones River National Battlefield offers several opportunities for teachers to explore the park's historic and natural resources with an eye towards connecting students to national parks while meeting curriculum goals.