Donate
Donate to Your Park
We can accept checks or money orders made payable to the National Park Service.
If you have a specific passion and would like the money to go to that cause, you should write a letter or note and request how you want the money to be spent. We would then set up a specific account number to be used for that purpose solely.
If you just wish for the park to receive the money, then the park will deposit these funds in the "general" donation account which typically funds education and interpretive events at the park.
Our address is
Statue of Liberty National Monument and Ellis Island
Statue of Liberty NM Ellis Island Receiving Office
Attention: Superintendent
Jersey City, NJ 07305
Did You Know?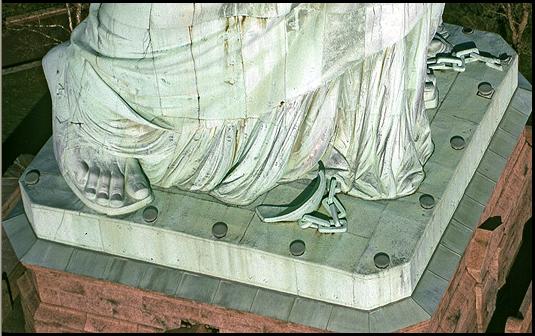 Freedom is not standing still. A symbolic feature that people cannot see is the broken chain wrapped around the Statue's feet. Protruding from the bottom of her robe, the broken chains symbolize her free forward movement, enlightening the world with her torch free from oppression and servitude.