Visiting Manhattan from New Jersey
Disclaimer: The Statue of Liberty National Monument offers the following guide as a courtesy to its visitors. All visitors are to contact each transportation provider to ensure operation and schedule accuracy BEFORE visiting.

This guide is for those driving to and parking in Liberty State Park, New Jersey who want to visit Manhattan after their trip to Ellis and Liberty Island.
Parking in Liberty State Park, NJ
The parking lot at the New Jersey ferry departure point is within the boundaries of Liberty State Park, New Jersey. Liberty State Park has seasonal operating hours. The parking lot is closed when Liberty State Park is closed.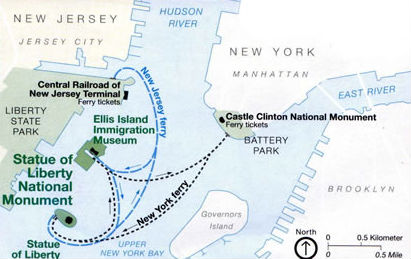 Getting to New York
Visitors departing from Liberty State Park, New Jersey will stop first at Ellis Island and second at Liberty Island. At either Island, visitors originating in New Jersey can board a New York bound ferry. Ferry lines are marked with signage. No ticket checks are conducted between Islands. New York ferries run the reverse route, stopping first at Liberty Island and second at Ellis Island.
The New Jersey ferry route is in blue.
The New York ferry route is in black.
Returning to New Jersey
Those who have visited Manhattan by transferring to a New York-bound Statue Cruises ferry can return to their parked car at Liberty State Park one of three ways:
Purchase a second ferry ticket from Statue Cruises and depart from Battery Park, New York. Once on either island, visitors will have to switch to the New Jersey ferry. Please be aware Statue Cruises has a final mainland departure time of 3:30 P.M. (4:30 P.M. during the summer). Please factor in ticket purchase time, security screening and boarding, which can be up to 90 minutes.
Take the Liberty Landing Ferry from the World Financial Center to Liberty Marina. The Liberty Landing Ferry drop-off in Liberty State Park is located across the cobble stone road from the parking lot.
Take the PATH Train from World Trade Center to Exchange Place. At Exchange Place, transfer to the Hudson-Bergen Light Rail. Get off at the Liberty State Park light rail stop. There is a one mile walk between the light rail and the parking lot.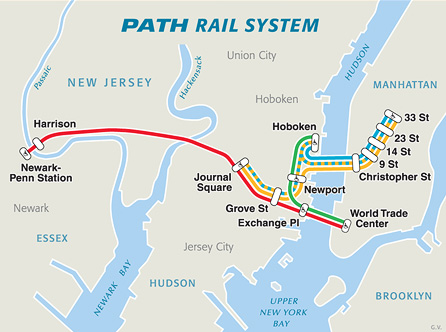 Port Authority of New York and New Jersey
Alternate Option: Taking a PATH Train
If the above options do not satisfy your itinerary, consider driving to a PATH station after your visit. Visitors can return to their cars and drive to the Grove Street PATH Station (also available: Journal Square PATH and Exchange Place PATH) in Jersey City, New Jersey. Lot parking (#296 located at 155 Montgomery Street) is two blocks from the Grove Street PATH Station. From the Grove Street OR Journal Square PATH Station, visitors have 24/7 access to Newark, NJ (by way of the Newark line) Hoboken, NJ (by transferring) lower Manhattan (by way of the World Trade Center line) and Midtown Manhattan (by way of the 33rd Street line).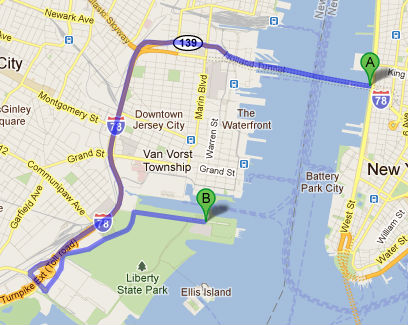 Google Maps
Alternate Option: Driving into Manhattan
Visitors can also drive into Manhattan after their visit to Ellis Island and Liberty Island. The Holland Tunnel is located a few miles north of Liberty State Park. Click here for directions to the Holland Tunnel from the Liberty State Park parking lot.
NOTE: Reference the Port Authority Holland Tunnel page for possible closures and hazardous material restrictions BEFORE driving through!
Statue of Liberty National Monument is part of the National Parks of New York Harbor.



Statue of Liberty | Ellis Island | Gateway | Castle Clinton | Federal Hall | St. Paul's Church | General Grant
Hamilton Grange | Theodore Roosevelt's Birthplace | Governors Island | African Burial Ground