Meet the Social Media Team
If you have visited the Statue of Liberty's Facebook page, you may have noticed initials in parentheses after each post. Have you wondered what those initials mean? Here's your chance to meet the people behind those initials- Liberty Island's social media team. These are the people who help keep a global audience connected with the copper lady residing in New York's Upper Bay.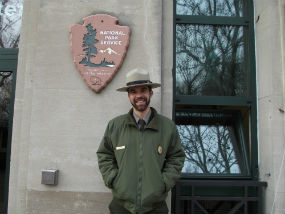 (kb) Kevin has been working for the NPS for nearly four years, spending most of that time at the Statue of Liberty NM. In 2009 he spent about six weeks working at Yellowstone National Park, and was surprised not by all the differences, but by the similarities. "I went from Ellis Island, a tiny speck of land less than 30 acres in size, to a wilderness of more than 2 million acres." Kevin realized that working for the National Park Service is mostly about talking to people. "Whether you're giving a tour of a geyser basin or an immigration museum, it's all about helping people make connections." Kevin enjoys meeting people from all over the world and talking about the history of the Statue and Ellis Island. He sees the opportunity to work with the social media team as a natural extension of those interactions. He is excited to be a part of the park's newest endeavor.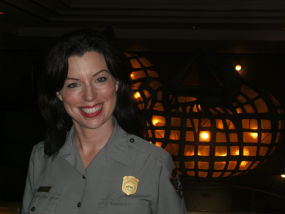 (dd) Dee began her career with the NPS in 2009. Since then, she has been able to travel to some of the most beautiful parts of the country in order to learn more about how the National Park Service began. A native New Yorker, Dee brings her passion and her booming voice to work every day to educate the visitors about the Statue. "The Statue of Liberty would never have been built if the individuals involved decided it was too much work or not worth the effort. They trusted their vision." As a member of the social media team, Dee works with her colleagues and other National Parks to bring the NPS into the 21st century by using Twitter, Flickr, Facebook and other social media platforms. She also thinks there is no such thing as "too many" cat videos.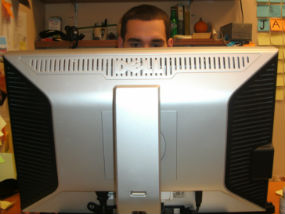 (jm) Jason came to the NPS in 2008. After a short stint in the classroom, Jason decided to get out from behind the desk and enjoy his local National Parks. He likes the challenge of enhancing education with non-traditional methods. The Statue of Liberty NM's social media endeavors have been both challenging and rewarding for him. The Statue of Liberty is a prime social media topic because of its diverse and plentiful visitation- both physical and virtual.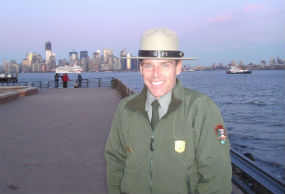 (dmm) Dennis began working at the Statue of Liberty NM in 1998. For the first eleven years he performed interpretive duties on both Liberty and Ellis Islands, but is now mainly on Liberty Island. Dennis enjoys working at such an iconic sites, and is especially interested in the media coverage that both Liberty and Ellis Islands have received throughout history. "Media is an amazing tool and I am delighted and excited to be able to help citizens from around the world to remain connected with us." Social media is an extension of this, and helps the "frontline park employee" to communicate with the world. Currently Dennis is one of the Supervisory Park Rangers but he is always eager to gather up the "huddled masses" at the flagpole and take them on a tour to enlighten them about his boss: Lady Liberty.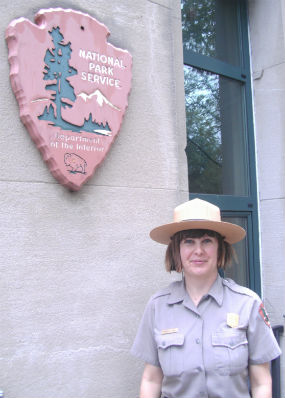 (dy) Daphne has worked at the Statue of Liberty for 15 years, and is currently one of the Supervisory Park Rangers. She is originally from North Carolina, but considers herself a real New Yorker now, having lived in 4 of the 5 NYC boroughs. She loves that she has a job where she can walk around outside and meet people from all over the world. She thinks that social media is so important because it creates another way for people to visit this iconic site.
Did You Know?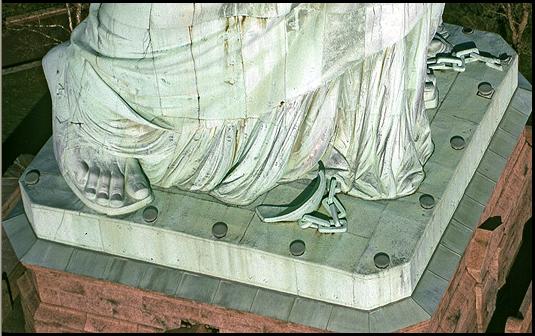 Freedom is not standing still. A symbolic feature that people cannot see is the broken chain wrapped around the Statue's feet. Protruding from the bottom of her robe, the broken chains symbolize her free forward movement, enlightening the world with her torch free from oppression and servitude.