Meet the Social Media Team
If you have visited the Statue of Liberty's Facebook page, Twitter site, or website, you may have wondered who contributes content and edits all those pages. Here's your chance to meet the people behind the posts and tweets -- Liberty Island's social media team. These are the people who help keep a global audience connected with the copper lady residing in New York's Upper Bay.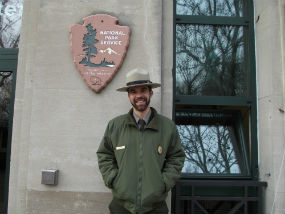 Kevin has been working for the NPS since 2008, spending most of that time at the Statue of Liberty NM. In 2009 he spent about six weeks working at Yellowstone National Park, and was surprised not by all the differences, but by the similarities. "I went from Ellis Island, a tiny speck of land less than 30 acres in size, to a wilderness of more than 2 million acres." Kevin realized that working for the National Park Service is mostly about talking to people. "Whether you're giving a tour of a geyser basin or an immigration museum, it's all about helping people make connections." Kevin enjoys meeting people from all over the world and talking about the history of the Statue and Ellis Island. He considers working with the social media team to be a natural extension of those interactions. Kevin is glad he has been able to contribute to a new field not only for the Statue of Liberty and Ellis Island, but for the National Park Service as well.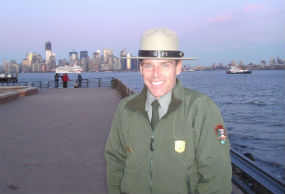 Dennis began working at the Statue of Liberty NM in 1998. For the first eleven years he performed interpretive duties on both Liberty and Ellis Islands, but is now mainly on Liberty Island. Dennis enjoys working at such iconic sites, and is especially interested in the media coverage that both Liberty and Ellis Islands have received throughout history. "Media is an amazing tool and I am delighted and excited to be able to help citizens from around the world remain connected with us." Social media is an extension of this, and helps the "frontline park employee" to communicate with the world. Currently Dennis is one of the Supervisory Park Rangers but he is always eager to gather up the "huddled masses" at the flagpole and take them on a tour to enlighten them about his boss: Lady Liberty.