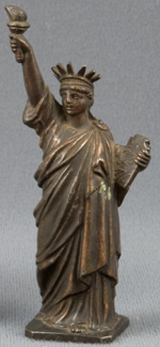 National Park Service, Statue of Liberty NM
Beginning in the 1880s, the American Committee of the Statue of Liberty was responsible for raising funds to pay for the construction of the pedestal and installation of the Statue. Joseph Pulitzer, publisher of the newspaper The World, spearheaded the sale of models of the Statue of Liberty to the public through his newspaper. Beginning in 1885, Pulitzer began advertising the sale of these models to be sold to the public in two sizes; a 12-inch model for five dollars and a 6-inch model for one dollar. The museum collection includes several of these original American Committee models.
Original letters addressed to Joseph Pulitzer are included in the museum collection and indicate that raising of funds for the construction of the pedestal was not a simple task, as illustrated in the 23 March 1886 letter written by American Committee treasurer Henry Foster Spaulding concerning the dire need for funds to continue the work of constructing the Pedestal.