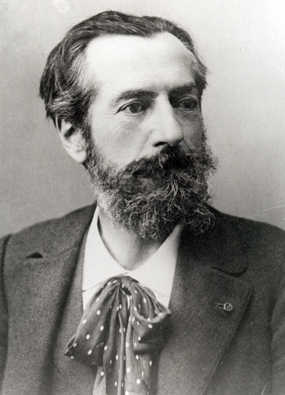 National Park Service, Statue of Liberty NM
Born on August 2, 1834 in Colmar, Alsace, France, Auguste Bartholdi was the French sculptor who designed the Statue of Liberty. Early in his career, Bartholdi extensively studied art, sculpture, and architecture. From 1855 to 1856, Bartholdi embarked on a life-changing trip throughout Europe and the Middle East with some fellow artists. When they visited the Sphinx and Pyramids of Giza in Egypt, Bartholdi discovered his passion for large-scale public monuments and colossal sculptures. In 1869, the Egyptian government expressed interest in designing a lighthouse for the Suez Canal. Eager and excited, Bartholdi designed a colossal statue of a robed woman holding a torch, which he called Egypt (or Progress) Brings Light to Asia. When he attended the canal's inauguration, however, Bartholdi was informed that he would not be able to proceed with the lighthouse.
Although disappointed, Bartholdi received a second chance to design a colossal statue. In 1865, Edouard de Laboulaye proposed that a monument representing freedom and democracy be created for the United States. Bartholdi was a great supporter of Laboulaye's idea and in 1870 he began designing the Statue of "Liberty Enlightening the World."