Statue of Liberty to Reopen July 4

The Statue of Liberty will reopen to the public on July 4, 2013. Tickets and reservations are now available through Statue Cruises, including limited tickets to the crown and pedestal through the summer. More »
Hurricane Sandy Recovery
THE STATUE OF LIBERTY NATIONAL MONUMENT IS CURRENTLY CLOSED.
A REOPENING IS SCHEDULED FOR JULY 4, 2013.
Liberty Island and Ellis Island are currently closed due to damage from Hurricane Sandy. Liberty Island will re-open July 4, 2013. There will be limited access to Ellis Island. There is no planned re-opening date for the Immigration Museum on Ellis Island.
There are still opportunities to view the Statue of Liberty, visit National Parks in the New York City, and have a fulfilling trip to New York City.
If you have any further questions please contact us.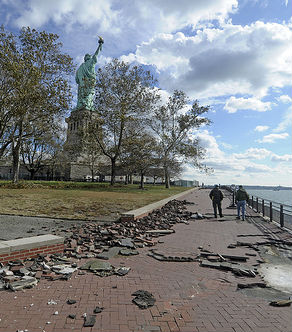 From Flickr (SandyResponseNPS)

ABOUT HURRICANE SANDY
On October 29, 2012, Hurricane Sandy made landfall over New Jersey. The 820 mile (1320km) wide hurricane brought high winds and storm surges to much of the Eastern United States, including New York City.
The Statue of Liberty is on Liberty Island, a 12 acre island
located a mile south
of lower Manhattan. Normally, the confines of the New York Harbor protect Liberty Island from extreme weather. However, when Hurricane Sandy hit, Liberty Island was in the direct path of a massive storm surge. Nearby in Battery Park, water rose 13.8 feet (4.2m). On Liberty Island, that meant nearly 75% of the Island was under water according to Statue of Liberty Superintendent David Luchsinger.
Luckily, the Statue of Liberty did not receive any damage. The Statue's 126 year old iron framework designed by
Alexandre-Gustave Eiffel
allowed for the Statue of Liberty to withstand the storm's intense winds. However, the Island's utilities, backup generator, and power systems were destroyed. The passenger and auxiliary docks were severely damaged and brick pathways have been uprooted around the Island.
"We're going to get this done as soon as we possibly can because [the Statue of Liberty is] such an important icon for New York and America," said Secretary of the Interior Ken Salazar on December 13, 2012 after a tour of the Island. Salazar also estimated that repairs to both Ellis Island and Liberty Island may be as much as $59 million.
STATUE OF LIBERTY NEWS
May 2013
March 2013
February 2013:
January 2013:
December 2012:
BEFORE AND AFTER PHOTOGRAPHS

Did You Know?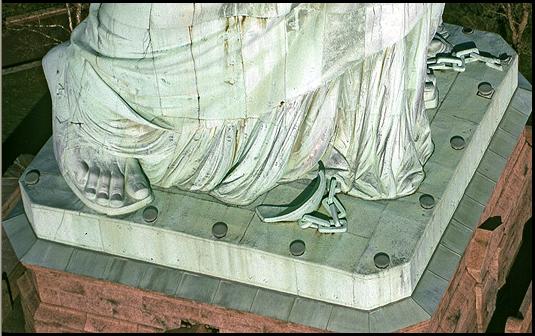 Freedom is not standing still.  A symbolic feature that people cannot see is the broken chain wrapped around the Statue's feet.  Protruding from the bottom of her robe, the broken chains symbolize her free forward movement, enlightening the world with her torch free from oppression and servitude.