Walking Tours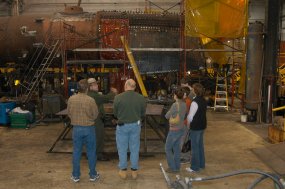 NPS Photo
Steamtown National Historic Site offers various walking tours conducted by Park Rangers and Volunteers. These programs cover topics including "Railroad Yards: Then and Now," "Locomotive Shop Tour," and others.
To learn about the Walking Tour(s) that may be available during your visit, visit our Guided Tours page. Due to staffing and equipment availability, the Guided Tours page is updated on a monthly basis, with each month's schedule posted about a week before the start of the month.
Did You Know?

Railroads are built with as few hills and curves as possible. If a railroad cannot go over or around a hill, a tunnel is constructed through the hill. Some of Steamtown National Historic Site's train rides travel through the Nay Aug Tunnel in Scranton, Pennsylvania. More...