Walking Tours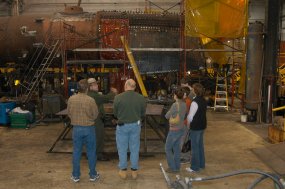 NPS Photo
Steamtown National Historic Site offers various walking tours conducted by Park Rangers and Volunteers. These programs cover topics including "Railroad Yards: Then and Now," "Locomotive Shop Tour," and others.
To learn about the Walking Tour(s) that may be available during your visit, visit our Guided Tours page. Due to staffing and equipment availability, the Guided Tours page is updated on a monthly basis, with each months schedule posted about a week before the start of the month.
Did You Know?

A large hard-working steam locomotive can use up to 6 tons of coal in about an hour. The fireman (the one who shovels the coal) might shovel 200 pounds of coal a minute!  This is why railroads helped design mechanical stokers.  Learn more about railroad jobs at Steamtown NHS in Scranton, PA. More...