Walking Tours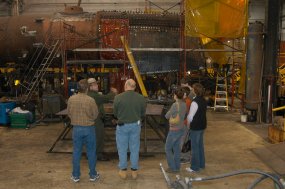 NPS Photo
Steamtown National Historic Site offers various walking tours conducted by Park Rangers and Volunteers. These programs cover topics including "Railroad Yards: Then and Now," "Locomotive Shop Tour," and others.
To learn about the Walking Tour(s) that may be available during your visit, visit our Guided Tours page. Due to staffing and equipment availability, the Guided Tours page is updated on a monthly basis, with each month's schedule posted about a week before the start of the month.
Did You Know?

The first flight of the Wright Flyer was 120 feet. That is 12 feet less than the length of one of the steam locomotives at Steamtown National Historic Site. The Union Pacific 'Big Boy', built in 1941, is 132 feet, 9 3/4 inches long! More...