Train Rides and Excursions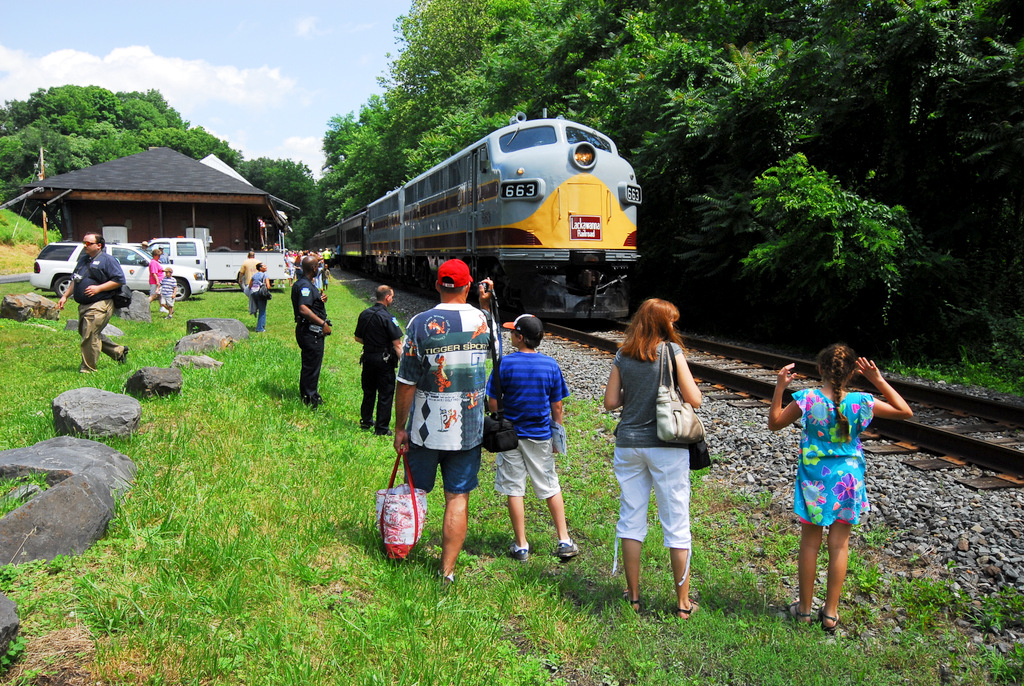 NPS Photo
2014 SCHEDULES
- August Excursions
- Fall Foliage Excursions
- Tours and short train rides
Steamtown's short train rides and excursions are available seasonally. The "Scranton Limited" short train rides returned for the 2014 season in late April. Departing from the park's Museum Core Complex, this train ride encompasses a 3-mile, 30-minute round trip through the rail yards, crosses the Lackawanna River and passes the historic Radisson at Lackawanna Station hotel, the former DL&W Railroad passenger station and offices, before stopping near the University of Scranton to begin its return to the roundhouse boarding area. Check our Monthly Scheduled Programs to verify operating days and times prior to your visit. (NOTE: The short train rides are sometimes cancelled when there are excursions scheduled on the same day.)

NEW FOR 2014!

On some Sundays, the "Scranton Limited" will transform into the "Nay Aug Limited." This expanded ride will travel a bit further east along the former Pocono Mainline to the 755-foot Nay Aug Tunnel. Each trip will also feature an interpretive program by a park ranger or volunteer, and a brief stop above Nay Aug Park Gorge and Waterfall NNL which is located inside the City of Scranton's Nay Aug Park and the adjacent Everhart Museum. "Nay Aug Limited" train rides will operate on Sundays only beginning April 27 - click here for more information. (NOTE: The short train rides are sometimes cancelled when there are excursions scheduled on the same day.)
The cost for both the
"Scranton Limited"
and
"Nay Aug Limited"
short train rides is $5.00 per person, all ages 6 and older, in addition to the park's daily Entrance Fee.

Our 2014 excursion season, scheduled to operate with historic diesel locomotives, began on Saturday, May 24. Click to read, download and print your copy of our remaining 2014 Summer Excursion Schedule, or our Fall Foliage Schedule. (Note: Fall Foliage reservations open on October 1.)

If you are 16 or older, you may also be interested in a Locomotive Cab Ride. Cab rides may be offered on many days that the "Scranton Limited" train rides operate, offering the opportunity to ride aboard a diesel locomotive (depending on the operating schedule). Rides are not available at this time aboard the new "Nay Aug Limited." Cab ride reservations are not available; click for details!
Did You Know?

The engineer drives the locomotive using the throttle lever, brakes, and reversing gear. He (or she) is in charge of the locomotive. The conductor, however, is in charge of the train. Learn more about railroad jobs at Steamtown NHS in Scranton, Pennsylvania. More...