Important Message

It is with great sadness that we report the passing of our friend and colleague, Harold H. "Kip" Hagen Jr., 62, superintendent of Steamtown National Historic Site on Saturday, December 14. More »
Tobyhanna - Gouldsboro, PA Excursions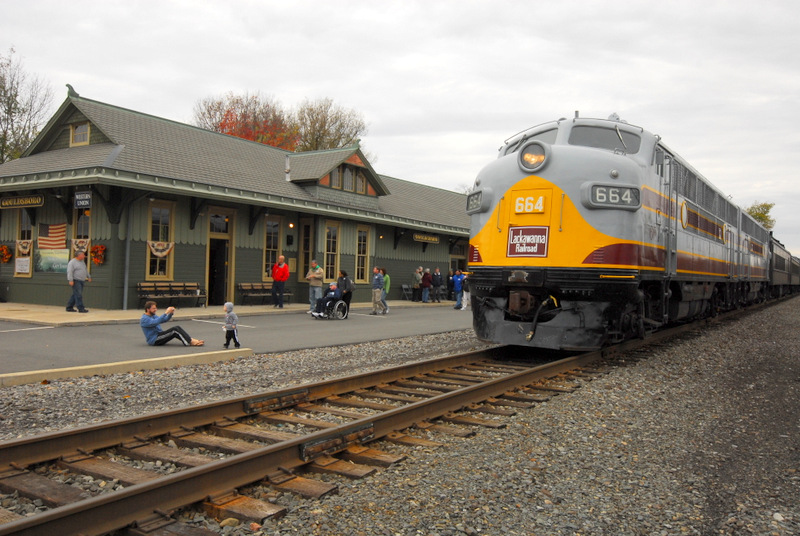 Steamtown NHS offers seasonal excursions to Tobyhanna - Gouldsboro, Pennsylvania. These 50-mile roundtrip train rides follow Roaring Brook onto the Pocono Plateau, through a tunnel, across numerous bridges, past ponds and lakes, and through the historic and scenic Pennsylvania countryside. At Tobyhanna, walking tours to a working ice house, or a tour of the small village may be offered. Light refreshments are available for purchase at both Tobyhanna and Gouldsboro Stations.


For 2013, Gouldsboro trips are scheduled for July 13 and October 6, and may include a station stop at Tobyhanna. An excursion to Tobyhanna is scheduled on October 20. Trips are tentatively scheduled to operate with a historic diesel (not steam) locomotive.

Tobyhanna - Gouldsboro excursions depart at 11:00 am and return approximately 3:00 pm. Reservations open on April 21.




Did You Know?

Though made of steel, the tires on a steam locomotive wear out. A new tire is cut slightly too small and then it is heated until it expands. After workers slide it onto the wheel, the tire shrinks as it cools and is locked into place. Learn more about steam locomotive maintenance at Steamtown NHS. More...