Tobyhanna, Gouldsboro and Cresco PA Excursions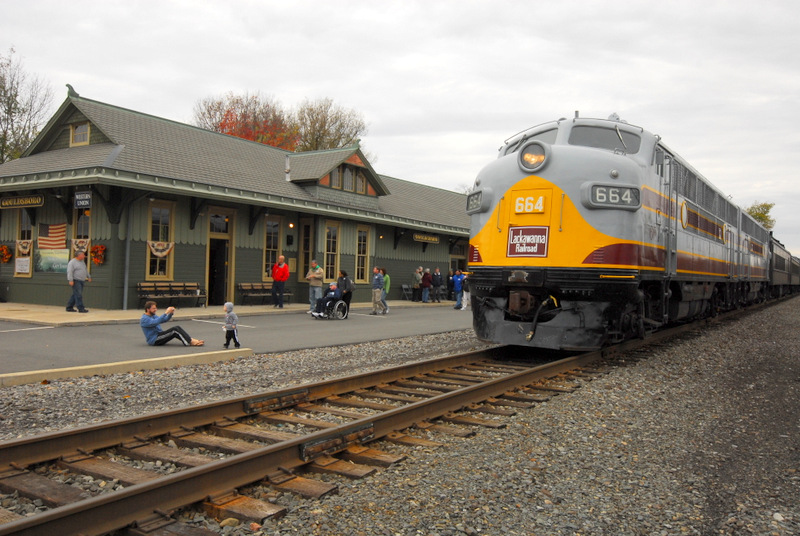 Steamtown NHS will offer summer excursions to Tobyhanna, Gouldsboro and Cresco, Pennsylvania. These 50-mile roundtrip train rides follow Roaring Brook onto the Pocono Plateau, through a tunnel, across numerous bridges, past ponds and lakes, and through the historic and scenic Pennsylvania countryside. At Tobyhanna, walking tours to a working ice house, or a tour of the small village may be offered. Light refreshments are available for purchase at station stops.
For 2014
- Gouldsboro trips are scheduled for June 14, 15 and 29, July 19 and August 24
- Tobyhanna on July 26
- Cresco on July 27 and August 9

Trips are scheduled to operate with a historic diesel (not steam) locomotive.

- Gouldsboro excursions depart at 11:00 am and return at approximately 3:45 pm.
- Tobyhanna excursion will depart at 12:30 pm and return at approximately3:45 pm
- Cresco excursions depart at 11:00 am and return at approximately 4:00 pm

Reservations are open now.




Did You Know?

A large hard-working steam locomotive can use up to 6 tons of coal in about an hour. The fireman (the one who shovels the coal) might shovel 200 pounds of coal a minute! This is why railroads helped design mechanical stokers. Learn more about railroad jobs at Steamtown NHS in Scranton, PA. More...