Tobyhanna - Gouldsboro, PA Excursions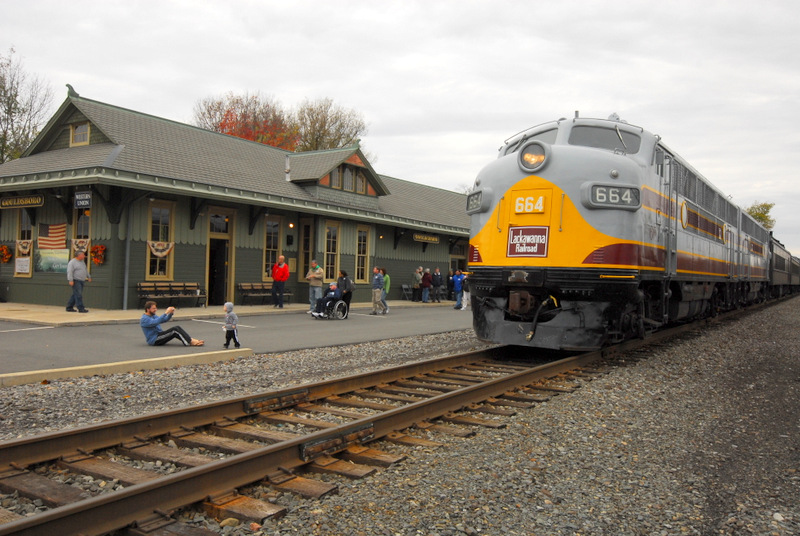 Steamtown NHS offers seasonal excursions to Tobyhanna - Gouldsboro, Pennsylvania. These 50-mile roundtrip train rides follow Roaring Brook onto the Pocono Plateau, through a tunnel, across numerous bridges, past ponds and lakes, and through the historic and scenic Pennsylvania countryside. At Tobyhanna, walking tours to a working ice house, or a tour of the small village may be offered. Light refreshments are available for purchase at both Tobyhanna and Gouldsboro Stations.


For 2013, Gouldsboro trips are scheduled for July 13 and October 6, and may include a station stop at Tobyhanna. An excursion to Tobyhanna is scheduled on October 20. Trips are tentatively scheduled to operate with a historic diesel (not steam) locomotive.

Tobyhanna - Gouldsboro excursions depart at 11:00 am and return approximately 3:00 pm. Reservations open on April 21.




Did You Know?
Many railroads, particularly Eastern roads, used anthracite coal for locomotive fuel during the early steam era. During World War I, the US Navy and the Allied Forces used anthracite coal to power the steam boilers of warships such as Admiral Dewey's USS Olympia, which is berthed at the Independence Seaport Museum in Philadelphia. Burning anthracite resulted in low-smoke emissions from steamship boilers and gave the Allies a strategic opportunity to close-in on the enemy in a battle. With anthracite coal diverted to the war effort, locomotive builders adapted to using bituminous coal in their future designs.