Moscow, PA Excursion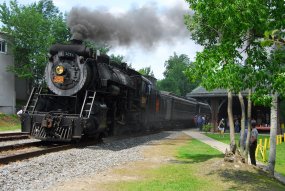 NPS Photo
Steamtown NHS offers seasonal excursions to Moscow, Pennsylvania, a small town on the western edge of the Pocono Plateau. This 26-mile round trip includes a 30-40 minute layover and takes about 2 hours. It follows Roaring Brook through the Nay Aug tunnel into the Pocono Mountains, across numerous bridges and through the historic and scenic Pennsylvania countryside. Light refreshments are available for purchase at the Moscow train station through the Lackawanna & Wyoming Valley Railway Historical Society.
Our 2013 excursion schedule has not been finalized, but will appear online to view, download and print when available.


Moscow Excursions depart at 12:30 pm and return at approximately 2:30 pm. Reservations for all excursions will tentatively open in late April.



Did You Know?

Elijah J. McCoy, a brilliant African-American mechanical engineer, invented an automatic lubricator cup (or drip cup) for steam locomotives and other machines.  It worked so well that inspectors, when checking in a new piece of machinery, would ask, "Is it the real McCoy?" More...