Theater Presentations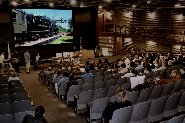 NPS Digital Imaging, Bill Clark
The Steamtown NHS Museum Complex includes a 250-seat theater. On most days, the 18-minute HD film "Steel and Steam" is shown every half hour, at the top and bottom of the hour - first show is at 9:30 am, last show at 4:00 pm. During our Winter Hours schedule, this film is shown in the Theater only on Saturdays and Sundays, first show at 10:30 am, last show at 3:00 pm. Winter weekdays, and on days where the main Theater is closed, the film screens in the History Museum (top level) on a continuous loop schedule.

We occasionally showcase various other railroad-related special presentations in the Theater, courtesy of unique partnerships with national railroads such as Amtrak, Canadian Pacific Railway, Norfolk Southern, and CSX, as well as The History Channel and WVIA/Channel 44, our regional PBS affiliate.
Did You Know?

Elijah J. McCoy, a brilliant African-American mechanical engineer, invented an automatic lubricator cup (or drip cup) for steam locomotives and other machines. It worked so well that inspectors, when checking in a new piece of machinery, would ask, "Is it the real McCoy?" More...