Railfest 2014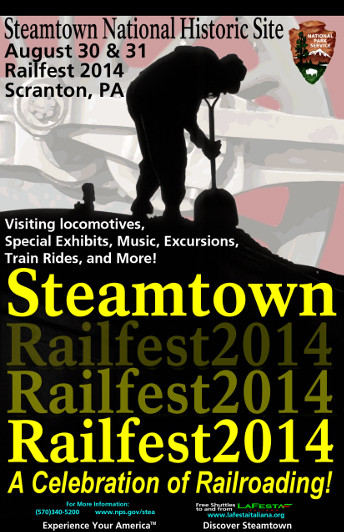 August 30 & 31
Railfest 2014 will celebrate Labor Day weekend with visiting equipment displays,
special shop demonstrations and, of course,
train rides on
Saturday, August 30 and
Sunday, August 31
Special Event Opening Ceremony
August 30, 10:00 am
featuring
Railfest 2014
Grand Marshal
Donna Hagen

Locomotive Shop Demonstrations (Tentative)
· Removing wheels from axles using our 300-ton press
· Wheel lathe demonstrations
· King 100 vertical boring mill demonstrations
Visiting Equipment
· DL&W-painted F-3 diesel locomotives (Owners: Anthracite Railroads Historical Society and Tri-State Railway Historical Society, Inc.)
· Delaware-Lackawanna Railroad
· Erie Lackawanna Dining Car Preservation Society (ex-DLW 469 Diner, ex-NKP 211 Sleeper 'City of Lima')
· Norfolk Southern - Exhibit Car + NS MP15E #2423

Excursions & Train Rides
· Caboose rides
· Hand Car (Pump Car) rides (weather-permitting)
· "Scranton Limited" Short Train Rides
(additional fee is required for ages 6 and above)
· Moscow Excursions - including photo run-bys at Moscow Station - with historic diesel
(Advance purchase of tickets is strongly recommended)
· Trolley Rides at partner site, Lackawanna County Trolley Museum (additional fee required)

Special Exhibits & Programs
· Anthracite Hi-Railers "O"-gauge model railroad train displays
· Children's Discovery Programs
· Confederation of Union Generals (Saturday only) - including "Trains, Telegraphs, and the Development of Modern Warfare" program
· "David Stone: The Johnny Cash Experience"
· Farmer's Market & Food Prep Demonstrations at the historic Scranton Iron Furnaces (Saturday only)
· Garden Railroad rides, with "live steam"
· Lehigh Valley #353 Business Car tours
· Mid Atlantic Motorcar Association
· Operation Lifesaver (Saturday only)
· Ron Leas' Big Band music (Saturday only)
· Union Pacific #4012 "Big Boy" Cab tours
At the Museum Shop
New book!
"The Lackawanna Railroad in Northeastern Pennsylvania" by David Crosby
Special Book-signing - Sunday only - 11 am - 2 pm
PLUS
Limited-edition commemorative "Railfest" shirts
also available for sale


During Railfest 2014, consider a visit to La Festa Italiana on Courthouse Square!
FREE Trolley Bus shuttles to/from Courthouse Square
via a stop at the Scranton Iron Furnaces
during the Park's operating hours!

During the event, the Steamtown parking lot may fill early; visitors are encouraged to consider using the Mall at Steamtown parking garage adjacent to the site.
Keep in mind, though, that the Park closes at 5 p.m. and guests parking at the Mall garage should plan accordingly
as the connecting Mall bridge is not Park property and closes at 6 p.m.
Additionally, in the event of severe weather conditions, the Mall may close the connecting bridge for safety reasons.
All listed participants and events are
subject to change without warning.
Did You Know?

Though made of steel, the tires on a steam locomotive wear out. A new tire is cut slightly too small and then it is heated until it expands. After workers slide it onto the wheel, the tire shrinks as it cools and is locked into place. Learn more about steam locomotive maintenance at Steamtown NHS. More...