Photography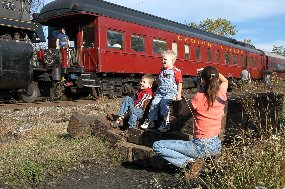 NPS Photo
Whether video or still, amateur or professional, Steamtown is a great place for photos. Photography is allowed in all areas at Steamtown, including the museums. Professional/commercial photographers (any image or video that will be used commercially) need a Special Use Permit prior to the shoot.
Please keep these few things in mind when taking photographs or videos:
When photographing in the railroad yard, keep in mind it is an active yard and any track may be used by a train at any time.
Do not climb on any locomotive, railroad car, or other structure for a better shot; it may not be stable.
Did You Know?

A large hard-working steam locomotive can use up to 6 tons of coal in about an hour. The fireman (the one who shovels the coal) might shovel 200 pounds of coal a minute! This is why railroads helped design mechanical stokers. Learn more about railroad jobs at Steamtown NHS in Scranton, PA. More...