Photography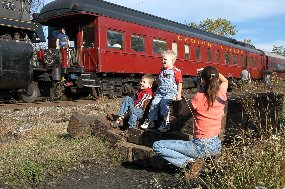 NPS Photo
Whether video or still, amateur or professional, Steamtown is a great place for photos. Photography is allowed in all areas at Steamtown, including the museums. Professional/commercial photographers (any image or video that will be used commercially) need a Special Use Permit prior to the shoot.
Please keep these few things in mind when taking photographs or videos:
When photographing in the railroad yard, keep in mind it is an active yard and any track may be used by a train at any time.
Do not climb on any locomotive, railroad car, or other structure for a better shot; it may not be stable.
Did You Know?
Many railroads, particularly Eastern roads, used anthracite coal for locomotive fuel during the early steam era. During World War I, the US Navy and the Allied Forces used anthracite coal to power the steam boilers of warships such as Admiral Dewey's USS Olympia, which is berthed at the Independence Seaport Museum in Philadelphia. Burning anthracite resulted in low-smoke emissions from steamship boilers and gave the Allies a strategic opportunity to close-in on the enemy in a battle. With anthracite coal diverted to the war effort, locomotive builders adapted to using bituminous coal in their future designs.