Photography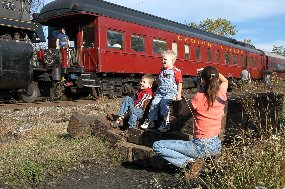 NPS Photo
Whether video or still, amateur or professional, Steamtown is a great place for photos. Photography is allowed in all areas at Steamtown, including the museums. Professional/commercial photographers (any image or video that will be used commercially) need a Special Use Permit prior to the shoot.
Please keep these few things in mind when taking photographs or videos:
When photographing in the railroad yard, keep in mind it is an active yard and any track may be used by a train at any time.
Do not climb on any locomotive, railroad car, or other structure for a better shot; it may not be stable.
Did You Know?

There are about 1,950 steam locomotives in the United States. About 250 of these are capable of running. At any given time, fewer than 100 can operate. Steamtown National Historic Site has three steam locomotives which can run. More...