Nickel Plate Road 514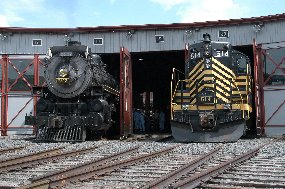 New York, Chicago & St. Louis Railroad (the Nickel Plate Road) #514
Owners: New York, Chicago & St. Louis Railroad #514; Norfolk & Western Railway #2514; Norfolk Southern #2514
Builder: Electo-Motive Division, General Motors Corporation, La Grange, IL, 1958
Locomotive #514 rolled out of the La Grange, IL locomotive works of the Electro-Motive Division of General Motors in 1958, putting it near the end of the production run of the famous GP-9 locomotives ("GP" designates a General Purpose locomotive, and "9" was the model number). The Nickel Plate Road (NYC&St.L) was one of the last major steam railroads to switch to the new diesel-electric locomotives. One reason for this was the famed "Berkshires" -- a 2-8-4 wheel arrangement steam locomotive capable of pulling heavy freight trains at high speed. In the early 1950s, the Nickel Plate took a look at the diesels and decided to stick with the Berkshires. Steamtown NHS has one Berkshire in its collection: the NYC&St.L #759. Though the 759 does not run, it allows the park to compare one of the last mainline locomotives in the US with the diesel-electric that replaced it.
The locomotive became part of the Norfolk & Western system in the 1960s after a merger with the Nickel Plate. On April 5, 1985, the locomotive was signed over to the Steamtown Foundation in Scranton, PA, as part of a trade which gave the Virginia Museum of Transportation in Roanoke, Virginia, clear title to the A-class steam locomotive N&W #1218.
Today the 514 has been repainted to its original Nickel Plate colors. While not part of the historic collection, it is used in the yards for switching and as a backup locomotive when the historic steam locomotives experience problems.
Minor cracks were found in one set of wheels. Until these wheels have been replaced, the locomotive is available only inside the railroad yards.
Did You Know?

Elijah J. McCoy, a brilliant African-American mechanical engineer, invented an automatic lubricator cup (or drip cup) for steam locomotives and other machines. It worked so well that inspectors, when checking in a new piece of machinery, would ask, "Is it the real McCoy?" More...