Locomotive Cab Ride Information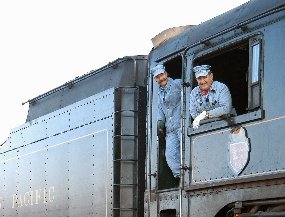 NPS Photo
2013 Steam Locomotive Cab Ride Information

Steamtown National Historic Site offers an exciting opportunity for adventurous guests to experience the sights, sounds and smells of either a steam or diesel locomotive UP CLOSE with locomotive cab rides within the Park's railyard! Participants will also have the opportunity to interact with the locomotive crew before this 30-minute (approximate) experience!

Details you ask? You bet!

1. You must be at least 16 years of age to participate in this program. Participants must be dressed appropriately (i.e. no skirts, etc., suitable footwear - no sandals, flip-flops, etc.) We will provide personal safety items. All participants are required to sign a "Hold Harmless Agreement" at the time of their ticket purchase.

2. Tickets are $35.00 each. In 2013, cab rides will be offered on all days that the "Scranton Limited" train rides operate, offering the opportunity to ride aboard either a steam or diesel locomotive (depending on the operating schedule - check the monthly Guided Tours schedule). We will offer a maximum of four (4) opportunities for cab rides per day on operating days - at 10:30 and 11:30 am, and 1:30 and 2:15 pm. Only one guest per cab ride.

3. All tickets will be sold on a "first-come, first-served" basis - absolutely NO reservations! Participants must purchase their locomotive cab ride ticket no later than 30 minutes prior to the schedule train departure. In the event a program is cancelled by park management, refunds will be issued.

4. This program is not handicapped accessible.

5. The cost of this program is in addition to the required daily Park Entrance Fee. It is not included in any "Fee Free Day" waivers. The program is not covered by "America the Beautiful" Interagency passes.

Did You Know?

The first flight of the Wright Flyer was 120 feet. That is 12 feet less than the length of one of the steam locomotives at Steamtown National Historic Site. The Union Pacific 'Big Boy', built in 1941, is 132 feet, 9 3/4 inches long! More...