Indoor Activities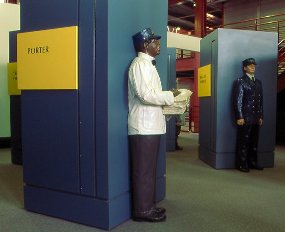 Indoors, explore our
museums
and view the Park film, "
Steel and Steam
." Guided walking tours of the
Locomotive Shop
are offered on most days year round. Occasionally, we host
temporary exhibits
at our Changing Exhibits Gallery. During the winter, special
Theater Presentations
may be offered on select weekends. Rain or shine, Steamtown offers a chance to learn about the history of railroading and how the steam locomotive - and the people who worked to make it happen - created the America we know today.


Did You Know?
Many railroads, particularly Eastern roads, used anthracite coal for locomotive fuel during the early steam era. During World War I, the US Navy and the Allied Forces used anthracite coal to power the steam boilers of warships such as Admiral Dewey's USS Olympia, which is berthed at the Independence Seaport Museum in Philadelphia. Burning anthracite resulted in low-smoke emissions from steamship boilers and gave the Allies a strategic opportunity to close-in on the enemy in a battle. With anthracite coal diverted to the war effort, locomotive builders adapted to using bituminous coal in their future designs.