Group Visits and Reservations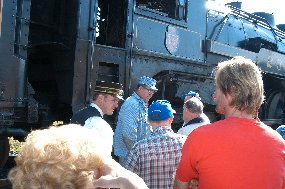 Steamtown NHS is very popular with tour and school groups. All organizations and groups need to make a reservation at least 2-3 weeks prior to visiting the park. This is especially important if you are planning a visit in the Fall that will include a train ride, as the excursions are very popular and do sell out. Keep in mind that due to limited staffing, the number of groups we can accommodate on any given day is limited. For more information, please email the details of your proposed visit, including date(s), to Group Reservations.
ATTENTION TOUR OPERATORS, BUS AND COACH DRIVERS!

VERY IMPORTANT! DO NOT use the Park's mailing address for directions because there is no entrance at that address!
Many tour operators and bus companies will automatically - and incorrectly - program our Park mailing address into bus, coach and van GPS systems. As a result, some groups have missed scheduled train rides or tour programs. To avoid delays or late arrivals for your passengers and guests, PLEASE use the following GPS information or visit our
Directions
page:
Our GPS coordinates are:
N 41.4107642 (latitude), W 75.6713545 (longitude)

On some GPS systems, using the street address 4 Lackawanna Ave and ZIP code 18503 will bring you to the Park Entrance at the intersection of Lackawanna Ave and Cliff St (some mapping software also lists as S Bridge Ave instead of Cliff St - it is the same entrance road).
Did You Know?
Many railroads, particularly Eastern roads, used anthracite coal for locomotive fuel during the early steam era. During World War I, the US Navy and the Allied Forces used anthracite coal to power the steam boilers of warships such as Admiral Dewey's USS Olympia, which is berthed at the Independence Seaport Museum in Philadelphia. Burning anthracite resulted in low-smoke emissions from steamship boilers and gave the Allies a strategic opportunity to close-in on the enemy in a battle. With anthracite coal diverted to the war effort, locomotive builders adapted to using bituminous coal in their future designs.