Canadian National 3254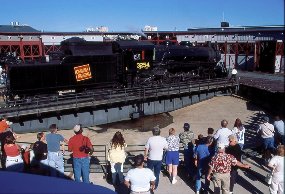 NPS Photo
Canadian National Railways #3254
Owners: Canadian Government Railways, #2854; Canadian National Railways, #3254
Builder: Canadian Locomotive Company, Kingston Works Ontario, Canada, 1917
Locomotive #3254, a 2-8-2 Mikado, rolled out of the Canadian Locomotive Company's Kingston Works for use on the Canadian Government Railways. The CGR had a very brief existence. The Canadian Government, on April 1, 1916, consolidated five government owned railways -- the Intercolonial Railway (1,527 miles), the Transcontinental Railway, the Prince Edward Island Railway (276 miles of narrow gauge) and the National Transcontinental Railway (1,814 miles) -- to become the Canadian Government Railway. In 1918, the CGR was combined with the Canadian Northern Railway, which operated primarily in the Western Prairies. This new railway, the Canadian National, is still in operation today.
The 3254 is an S-1-b Mikado. (On Canadian National, the "S" meant a 2-8-2 wheel arrangement, the "1" meant it was the first design of this wheel arrangement and the "b" meant it was the second production run.) It was built to pull heavy freight trains and was retired in 1958. It was sold to a private owner in Pennsylvania in 1961, and in 1982 it was sold to the Gettysburg Railroad. In the summer of 1987, the Steamtown Foundation traded the CPR #1278 (a G-5 Pacific) plus cash to Gettysburg Railroad for the CN #3254.
CN #3254 is in the Locomotive Shop, where our shop forces re-profiled the lead truck and main driving wheels, installed new springs on the trailing truck, and installed a rebuilt stoker motor. The locomotive is out-of-service for journal repairs as of June 28. We expect the locomotive to be back to excursion service for the 2009 Operations Season before long.

Future plans include sandblasting, repairing, and epoxying the interior of the tender cistern, followed by a complete exterior painting, at end of the 2009 Operations Season.
Did You Know?

When boiled, a cup of water creates about 1,600 cups of steam!  When the resulting steam is contained in a vessel such as a steam locomotive boiler, it can create up to 300 pounds per square inch of pressure.  Learn more about steam locomotives at Steamtown National Historic Site! More...