Baldwin Locomotive Works 26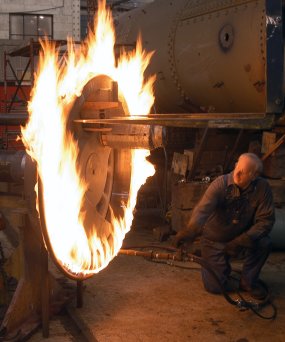 NPS Photo, Bill Clark
Baldwin Locomotive Works #26
Owners: Baldwin Locomotive Works, #26; Jackson Iron & Steel Company, #3
Builder: Baldwin Locomotive Works
One of two typical switch engines in the Steamtown NHS collection (the other is the Spang, Chalfont & Co. #8) with an 0-6-0 wheel configuration, Baldwin Locomotive Works #26 rolled out of the Baldwin Locomotive Works, Eddystone, Pennsylvania, in March, 1929. But instead of selling it to some railroad or industry, the Baldwin company retained the locomotive for switching duties at their massive Eddystone Plant. The switcher, after serving many years for BLW, was sold to Jackson Iron & Steel of Jackson, Ohio where it switched empty cars into the plant and loaded cars out to the Baltimore & Ohio Railroad and the Detroit, Toledo & Ironton Railroad -- the two railroads connecting with the plant. It was sold in 1979 to a private owner, and remained in Jackson until June, 1983, when it moved to Grand Rapids, Ohio. In July of the same year, it moved to the Mad River & NKP Museum at Bellevue, Ohio. It remained there until 1986, when it was acquired by the former Steamtown Foundation in trade for Canadian National Railways 4-6-0 Locomotive #1551. It actually arrived in Scranton, PA, in January, 1990, after Steamtown had been designated a National Park.
This locomotive is currently undergoing a full rebuild.
A new firebox is installed. The rigid staybolts on the side sheets are installed, though they still need to be trimmed and hammered over. The holes for the flexible and radial stays are being prepared.
The frame of the locomotive has been trammed (aligned), a new cylinder sleeve installed in the right main cylinder, the left main cylinder has been bored. Work continues on the brake rigging and suspension.
The wheels were checked for cracks in the cast steel. One crack was found and repaired. The axles were re-centered (the dynamic augment, or unbalanced weight, will eventually move the center of the axle away from the center of the wheel which, of course, increases the pounding) and the bearing surfaces have been ground.
In 2007, new tires were sweated into place on the wheels. During 2008-09, staybolts were installed, mud ring riveting, firebox welding and the slide valve rebuild were completed. Cab, tender frame and tender tank repairs were also completed in this timeframe.

In 2009, a contractor applied tank epoxy to the inside of the tender cistern, the tender trucks were rebuilt and work continues on the driving wheel boxes. Additionally, we are preparing to install the front tube sheet and approximately 300 2-inch flues.
Steamtown NHS is not currently operating mainline steam locomotives. We are in the process of a major maintenance and rebuild of our locomotive power fleet. We are currently focusing our attention on our 1929 Baldwin Locomotive Works #26, an 0-6-0 switcher. BLW #26 will be the motive power for our "Scranton Limited" short train rides. This locomotive may also see duty as motive power for an occasional special excursion on a portion of the former Delaware & Hudson Railroad mainline to Carbondale. The next steam locomotive to return to service is expected to be our Boston and Maine #3713, a Lima-built 4-6-2 Pacific-type Superpower locomotive with oversized firebox and superheaters that are able to pull and heat a 14-car passenger train at track speed! This 1937 American-built locomotive is in our collection and being restored in partnership with the Lackawanna and Wyoming Valley Railway Historical Society. When completed, the locomotive will replace our Canadian National #3254 2-8-2 Mikado-type locomotive for mainline excursion power. Following completion of these projects, we plan next to repair and restore 1923 Canadian Pacific #2317 to operating condition. CP #2317 will be used for motive power on our mainline excursions.
We continue to be diligent and proactive in our efforts to secure the resources necessary to restore these historic locomotives to operating condition, and to allow the Park to continue its unique mission of providing "live steam" interpretive programs well into the future. Follow the progress via our website or, better yet, plan a visit to our Locomotive Shops.
Did You Know?

Elijah J. McCoy, a brilliant African-American mechanical engineer, invented an automatic lubricator cup (or drip cup) for steam locomotives and other machines. It worked so well that inspectors, when checking in a new piece of machinery, would ask, "Is it the real McCoy?" More...