News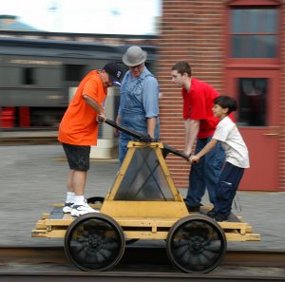 News Releases and Newsletters
News or Press Releases, including upcoming scheduled and special events, as well as, when necessary, cancellation notices, are available here. Click on News Releases for these documents.

Steamtown produces a semi-annual newsletter that highlights events at the Park. Click on Park Newspaper to see the most current issue, as well as archived back issues. As part of our commitment to the NPS "Call to Action," our blueprint for the future of our parks, we've "Gone Green" and no longer offer print copies of our newsletters - but you may download a printer friendly copy (OR! Save a tree, read it online and forward the page link to a friend!!
"Troops and Trains" Event
May 24-25, 2014
Visit Steamtown National Historic Site on Saturday, May 24 or Sunday, May 25 for an event titled, "Troops and Trains."
Among the planned exhibits for this two-day event are
- recreation of a WWII Troop Train and an encampment
- historic military vehicles and equipment displays
- reenactors dressed in period military uniforms and civilian dress, and
- "Troops and Trains" Living History programs throughout both days
At this point, we are hoping to have The Dietrich Radio Players performing a live 1940's radio broadcast in our theater. For more information, phone or email Park Ranger Kenny Ganz at 570-340-5240.



Did You Know?

A large hard-working steam locomotive can use up to 6 tons of coal in about an hour. The fireman (the one who shovels the coal) might shovel 200 pounds of coal a minute! This is why railroads helped design mechanical stokers. Learn more about railroad jobs at Steamtown NHS in Scranton, PA. More...