News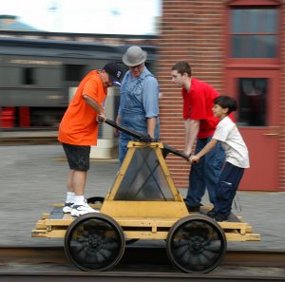 News Releases and Newsletters
News or Press Releases, including upcoming scheduled and special events, as well as, when necessary, cancellation notices, are available here. Click on News Releases for these documents.

Steamtown produces a semi-annual newsletter that highlights events at the Park. Click on Park Newspaper to see the most current issue, as well as archived back issues. As part of our commitment to the NPS "Call to Action," our blueprint for the future of our parks, we've "Gone Green" and no longer offer print copies of our newsletters - but you may download a printer friendly copy (OR! Save a tree, read it online and forward the page link to a friend!!
Steamtown NHS is on Facebook!
"Like us and join the fun!"



Did You Know?

Roundhouses were essential to steam railroading. Most steam locomotives required servicing about 150 to 200 miles when they were new. Find out more about what goes on in the Roundhouse at Steamtown National Historic Site. More...